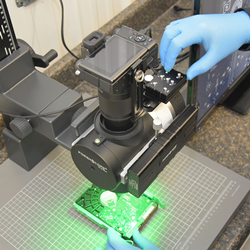 "The ForenScope imaging devices provide unmatched evidence detection and documentation technologies to law enforcement, there really isn't anything else out there with this level of capability." Mike Grimm, President, EVIDENT
UNION HALL, Va. (PRWEB) January 11, 2023
The ForenScope mobile imaging devices, for crime scene units and forensic labs, will be on display and available for hands-on testing in Greensboro, NC, Columbia, SC, and Richmond, VA during three scheduled days in March 2023.
EVIDENT encourages any area law enforcement agencies to attend the demonstrations for the opportunity to test the multiple ForenScope devices that are currently available.
ForenScope has developed multiple technologies to assist agencies when searching for, and documenting, evidence at the crime scene or in the lab.
"The ForenScope imaging devices provide unmatched evidence detection and documentation technologies to law enforcement," Mike Grimm, President of EVIDENT says, "there really isn't anything else out there with this level of capability combined with mobility."
Law enforcement agencies in the U.S. can benefit from the technology with increased amounts of evidence detection combined with greater efficiency. The ForenScope devices can locate and document fingerprints, body fluids, blood, skin cells, gunshot residue (GSR), trace evidence, altered documents, counterfeit currency, and many other types of evidence.
"We have been shipping the new ForenScope devices all over the U.S., our customers are very excited and really love these devices." Says Ruth Prillaman, Project Manager at EVIDENT.
Any interested agencies should contact EVIDENT through their website at http://www.ShopEVIDENT.com.
ForenScope demonstration details:
March 7, 2023, 9AM-5PM, Greensboro, NC
March 14, 2023, 9AM-5PM, Columbia, SC
March 21, 2023, 9AM-5PM, Richmond, VA
ForenScope is based in Turkey and is focused on developing and manufacturing advanced mobile forensic imaging devices for law enforcement.
Based in Union Hall, VA, EVIDENT was started in 1992 and features a diverse offering of crime scene products, forensic laboratory supplies, and law enforcement equipment with over 2,000 available items.