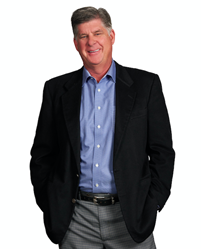 "Providing a local banking option to address the needs of our growing Arizona business community is something I strongly believe in." — LaneTerralever Partner & Executive Chairman, Beau Lane
SCOTTSDALE, Ariz. (PRWEB) January 12, 2023
Gainey Business Bank, a financial institution committed to supporting Arizona's small and medium sized businesses, is pleased to announce the election of Beau Lane to its Board of Directors.
Beau Lane is a native Arizonan and currently serves as the Executive Chairman of LaneTerralever, LLC one of the largest and most successful marketing and advertising agencies in the region. After building E.B. Lane for nearly 20 years, in 2013 Beau led a successful merger with a leading national digital marketing firm Terralever to form LaneTerralever, LLC, going on to be named "2013 Ad Person of the Year" by Phoenix Ad Club. Under his direction, the agency has received local and national recognition for years of award-winning work.
Beau continues to lend his leadership skills to support the vitality and economic future of Arizona through extensive service on community boards and committees including but not limited to Greater Phoenix Leadership, Phoenix Community Alliance, GCU Colangelo School of Business, ASU Cronkite School of Journalism and now, Gainey Business Bank. In 2022 he was a candidate for the Republican nomination for Arizona Secretary of State and continues to remain dedicated to the advancement of Arizona.
"We are extremely pleased to have Beau join our Board with his extensive business leadership, marketing experience and commitment to our Arizona community," said Jim Unruh, Chairman of Gainey Business Bank. "This is a valuable addition and complement to the experienced backgrounds of our existing board members."
Joe Stewart, President & CEO of Gainey Business Bank, commented, "Beau Lane is a welcome addition to our already outstanding Board of Directors. He brings a tremendous background in something that is very important to Gainey Business Bank and any community bank, deep local market knowledge and longstanding business relations."
Beau Lane added, "I am excited to join Gainey Business Bank's Board and look forward to bringing my knowledge of the Valley to the Bank's team. Providing a local banking option to address the needs of our growing Arizona business community is something I strongly believe in."
About Gainey Business Bank
Gainey Business Bank is an FDIC insured Community bank based in Scottsdale, Arizona. It commenced operations in July 2022 with a purpose to help the rapidly growing sector of Arizona based, small-to-medium sized businesses grow and prosper. To learn more about Gainey Business Bank's efforts to serve Arizona, please visit our website: GaineyBusinessBank.com