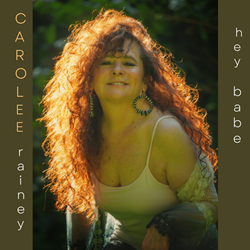 "Hey Babe" reminds us that it's empowering to be in relationships with people that can meet us halfway, in ways that feel comfortable, that make us feel accepted, safe and respected no matter what we're going through or where we are on our journey. We should never accept anything less."
NORWALK, Conn. (PRWEB) January 16, 2023
American singer-songwriter Carolee Rainey has released a new single "Hey Babe," which she has dedicated to Georgia O'Keefe, Ruth Bader Ginsberg, Gloria Steinem, Oprah Winfrey, Selena Gomez and Michelle Obama, a group of powerful women she cites as personal inspirations.
"These women have been fierce and inspiring role models to men and women around the world, people dealing with low self esteem, equal rights, empowerment and striving for the courage it takes to have great communication in relationships," said Rainey.
"Hey Babe" reminds us that it's empowering to be in relationships with people that can meet us halfway, in ways that feel comfortable, that make us feel accepted, safe and respected no matter what we're going through or where we are on our journey. We should never accept anything less," she said.
The new single, which Rainey recorded at Fifty-one Fifteen Studio in East Nashville, TN, has been released by Sapphire Records to worldwide streaming platforms including Spotify, Apple Music, iTunes, and Amazon Music.The label will deliver the song to non-commercial public radio, select college stations, and AAA commercial radio markets, in January 2023. The song was produced by David Veslocki and Craig Wilson.
The song is a follow up to her successful single "King and Queen," a love song which was inspired by the relationship of Queen Elizabeth and Prince Phillip. The song spun nationally at non-commercial public and college radio, and charted at #8 on iTunes in the US, and #20 on iTunes in the UK.
The music video for "Hey Babe", which debuted on YouTube on Friday, January 13, 2023, was directed and edited by Ryan Sweeney of Sweeney Photography. It was filmed on location at Black Rock Tavern and Restaurant, and the Thomaston Train Museum, in Thomaston, CT. Appearing in the video are actors Red Lanphear and Tony PS, with hair and makeup by Amanda.