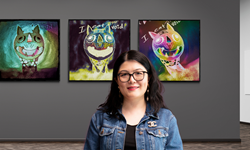 "CoolWallet x HIROMITA is a unique and exciting collaboration that brings together the worlds of art, culture, finance, and technology."
TAIPEI and ISTANBUL (PRWEB) January 24, 2023
This NFT brand collaboration brings together culture, art, finance, and technology in a new interpretation of using NFTs to tell compelling brand stories and create customer engagement. The collection features Melek Anqi's beloved HIROMITA character, which is inspired by the Taiwanese Turkish artist's childhood experiences in Taiwan as well as the myth of the Asian tile cats on rooftops that protect a household. This whimsical and playful cat eats our inner void and gives back love and wealth.
There are a total of 10 unique HIROMITA NFT artworks available in the "CoolWallet x HIROMITA" NFT collection that CoolWallet users can win, trade, or gift. Each HIROMITA NFT portrays a different theme reflected by its title, such as Wholehearted, Passion, Clarity, Joy, etc. In addition to being a reminder of that particular theme in their lives, a HIROMITA NFT will unlock exclusive benefits for CoolWallet users.
On working with Melek Anqi, a CoolWallet spokesperson said, "Melek Anqi's art is bright and colorful, much like her personality, which enabled us to brainstorm very creative collaborations together. It's always great to work alongside artists and learn about their creative process from a close interaction."
Excitingly, CoolWallet will be giving away some HIROMITAs as part of a Lunar New Year social media campaign they are running, "What will HIROMITA ignite in you?" – we recommend heading over to their Twitter to get involved.
Helping Brands Build Communities with Digital Products
The partnership between CoolWallet and the contemporary artist Melek Anqi is the latest example of the rising trend of using Web3 technologies for building communities and establishing brand loyalty. NFTs provide brands with a profound way to connect people via shared interests through compelling storytelling. Brands can create communities where people can engage, trade, purchase, and speak with other people all under the brand's banner.
The artist Melek Anqi told us, "With the use of artworks in the form of NFTs that tell engaging stories, brands like CoolWallet can connect with people through shared interests and experiences. This collaboration with CoolBitX and the release of our NFT collection is an example of how NFTs can create meaningful connections within a digital community where individuals can engage with the artist, the brand, and each other."
In addition to owning a piece of original art, HIROMITA NFT holders will qualify to join CoolWallet's private Discord, allowing them to participate in all CoolBitX events and gain exclusive benefits for upcoming Launchpad and CBX airdrops. This ecosystem allows for a variety of interactions and experiences that build deeper connections and loyalty among the community members, which ultimately contributes to the brand's vision of mass adoption of crypto assets.
Get Your Hands On A HIROMITA
Overall, CoolWallet x HIROMITA by Melek Anqi is a unique and exciting collaboration that brings together the worlds of art, culture, finance, and technology. The collection offers a new way for artists to reach a wider audience and for brands to connect with their audience on a deeper level.
Head over to their social media pages, where you can stay tuned for the release of the collection and be a part of the exclusive community of HIROMITA digital product owners. Additionally, they'll be running fun challenges for community members to win their own CoolWallet NFT from the CoolWallet x HIROMITA collection.
About HIROMITA & Melek Anqi
Melek Anqi Kocasinan (高安琪) is a Taiwanese Turkish contemporary artist known for her vibrant mixed media, textile, and digital artwork. She received her graduate degree at Yale University and further studied fashion design and illustration. A trademark of her work is compelling visual stories with elements of Asian culture and her own personal mythology. Her artwork has recently been showcased in exhibitions and fairs in New York and Istanbul and featured in various publications such as Robb Report, Elle, CNA, and Anadolu News Agency. Using traditional materials and digital tools together, the artist creates otherworldly physi-digital artworks.
HIROMITA, the character featured in the collection, is heavily influenced by Melek Anqi's Asian roots, especially by her childhood years in Taiwan. While learning Chinese in Taipei when she was 7 years old, the artist felt connected with the lively characters in comic books. Being a guardian of 5 cats also inspired her imagining of HIROMITA as a cat. Furthermore, Asian rooftop cat figurines shaped the story of HIROMITA. These traditional sculptures, called "Tiger on the Roof", are said to eat ghosts and bring good fortune to households. Melek Anqi transforms this legend and creates a tiger-spirited cat that eats away the inner void in our modern lives with her terrifying mouth and teeth and gives back love (virtual connections) and abundance (crypto assets). HIROMITA, who has a wild and playful character, also reminds us of the importance of connection to others while staying true to ourselves.
About CoolBitX & CoolWallet
CoolBitX is a blockchain security company that develops and designs secure digital asset hardware wallets and infrastructure to ensure the safe storage and transaction of crypto assets. CoolWallet is the award-winning product of CoolBitX and is a mobile cold storage hardware wallet that allows users to securely store and manage their crypto assets. CoolWallet has recently launched CoolWallet HOT: a new software wallet feature in its CoolWallet app, enabling all crypto users to self-custody their crypto assets with confidence.
CoolWallet is committed to promoting the mass adoption of crypto assets and is constantly exploring new ways to connect people with digital assets. The new CoolWallet HOT module provides a versatile platform to onboard powerful Web3 features faster, helping bolster the industry-wide movement of crypto self-custody among beginner mainstream users who don't use cold asset storage yet. Furthermore, the collaboration with Melek Anqi and the release of the CoolWallet x HIROMITA by Melek Anqi NFT collection is a testament to this commitment, as it brings together the worlds of art, culture, finance, and technology in an exciting and unique way.