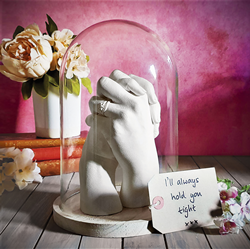 "We're really excited to be bringing our kits to the US" said Alison Martin, MD of The Edinburgh Casting Studio."When you only have one shot at making a precious memory you need to make sure it's the best and our kits capture incredible skin and jewellery detail that other kits can't get close to."
ASPEN, Colo. (PRWEB) January 23, 2023
The Edinburgh Casting Studio's luxury casting kits are a fun way for couples to make meaningful Valentine's Day memories that will stick in their minds forever.
Made in the USA, but developed by the British team behind the world's most exclusive lifecasting studio, Wrightson and Platt, The Edinburgh Casting Studio's kits take home-casting to the next level.
The technical expertise that is used to make casts for the world's elite, including royal families and A-list celebrities, is now available for all families and couples for a fraction of the price on Amazon and the company's US website.
Edinburgh Casting Studio Home Casting Kit Details:

Fun DIY project for couples and families
Fully illustrated instructions booklets and how-to videos mean great results are easy to achieve
One-to-one technical support and advice available from award-winning customer care team
Fully certified skin safe and non-toxic by the American Society for Testing and Materials
Key ingredients include high quality casting powder that sets fast to capture amazing skin and jewelry detail