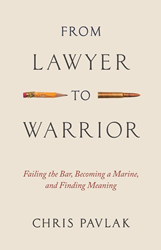 I had been fortunate enough to seize an opportunity...to explore the unknown. To be denied this experience or to somehow have it stripped away would have left me with one looming question: what might have been?
ALEXANDRIA, Va. (PRWEB) January 31, 2023
When Chris Pavlak failed the bar exam in 2006 and 2007, the comfortable optimism of becoming an attorney vanished, replaced by feelings of shame, humiliation, and inadequacy. Fixated on the financial ascendancy of being a lawyer for a large law firm, Chris had attended law school for all the wrong reasons. In that hypercompetitive environment, he became singularly focused on comparing himself to others, status, and making money. When chaos reared its ugly head in the form of repeated failures, he realized he would have to radically reshape his life. Uncertain about where a new path might lead, Chris embarked on a life of service in the United States Marine Corps. The crucible of Marine Officer training, and the privilege of leading Marines, ultimately helped recalibrate the vision of his life.
During his service, Chris has led marine rifle and scout sniper platoons, been a planner for Marine Corps service-level exercises, and served as an advisor to Afghan security forces. Still in the Marine Corps Reserves, Chris is a faculty member at National Intelligence University near Washington, DC. As a civilian, he is a consultant on the policies, ethics, governance, and regulations of artificial intelligence and emerging technologies.
Purchase at:
https://www.amazon.com/Lawyer-Warrior-Failing-Becoming-Finding/dp/1544538464/ref=sr_1_1?crid=2WX7R4WJ40NFX&keywords=from+warrior+to+lawyer&qid=1674329818&sprefix=from+warrior+to+lawye%2Caps%2C268&sr=8-1
Contact Info:
http://www.lawyertowarrior.com
https://www.facebook.com/LawyerToWarrior
https://twitter.com/lawyertowarrior
-