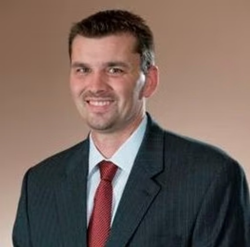 "I am very excited to join the Tecumseh team," said Wiseman. "One thing that has been clear from the start is Tecumseh has its best days ahead. There is excitement internally and in the market about the continued revitalization of this respected brand and I look forward to being a part of that."
ANN ARBOR, Mich. (PRWEB) January 24, 2023
Tecumseh Products Company LLC, a global leader and innovator of commercial refrigeration and climate control technologies, has welcomed Chris Wiseman as their President of Americas.
Wiseman brings over 20 years of executive leadership experience and knowledge in the commercial and industrial drive industry, having most recently been President of Commercial Industrial Motors and Drives at Nidec Motor Corporation. Prior to his role at Nidec, Wiseman held advancing roles in business planning and development at Emerson.
As the President of Americas, Wisemen will be responsible for all aspects of the Tecumseh business in the Americas region, as well as being an integral part of Tecumseh's global leadership team.
Tecumseh CEO, Jay Pittas, said "We are excited to welcome Chris and further strengthen our leadership team to keep driving Tecumseh forward. In his new role, Chris will accelerate product development, improve customer focus and help us capitalize on opportunities with a focus on innovation, collaboration and productivity."
"I am very excited to join the Tecumseh team," said Wiseman. "One thing that has been clear from the start is Tecumseh has its best days ahead. There is excitement internally and in the market about the continued revitalization of this respected brand and I look forward to being a part of that."
Chris holds an MBA from The Ohio State University as well as a bachelor's degree in Mechanical Engineering from the University of Pittsburgh.
About Tecumseh Products Company LLC
Founded in 1934, Tecumseh Products Company LLC is a leading global manufacturer of hermetic reciprocating, rotary and scroll compressors ranging in capacity from 1/15th to 30 horsepower, as well as offering a complete line of condensing units and systems for use in residential and commercial refrigeration and air conditioning applications. Tecumseh products are manufactured on four continents and sold globally through a network of sales professionals, authorized wholesalers and licensed distributors offering brand names that include: AE®, AE2®, AW®, Celseon®, L'Unite Hermetique®, Masterflux®, Silensys®, and Wintsys®. Tecumseh Products Company LLC is headquartered in Ann Arbor, Michigan.