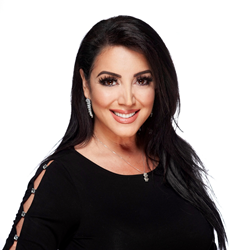 "I am thrilled to be a part of Dealer eProcess, a company I have long admired for their progressive approach to solving dealers' challenges by providing award-winning technology with world-class customer care."
LISLE, Ill. (PRWEB) January 30, 2023
Dealer eProcess, a leading provider of automotive website and marketing solutions, is excited to welcome the latest addition to its executive team, Eliana Raggio. Eliana has come on board as Dealer eProcess' Chief Marketing Officer to help guide the company's vision and grow brand awareness in 2023 and beyond. Eliana brings with her over 15 years of experience in marketing for automotive technology companies, and her breadth of knowledge of the automotive landscape and its key players offers an exciting new perspective to Dealer eProcess' current sales and marketing efforts.
"We have never been more excited for what the future holds for DEP," says DEP founder and CEO, Joe Gillespie. "Dealer eProcess has always been an industry leader in automotive technology, and with the new advances we're making with our platform and messaging for 2023 and beyond, we believe that the addition of Eliana will provide an immediate impact for us in this very competitive industry."
Eliana Raggio is a 15-year automotive industry veteran nicknamed the "Webinar Goddess" and "The Voice of Automotive." Eliana's previous work experience includes marketing for automotive software companies TK Carsites, DealerOn, and Digital Air Strike. At these companies, Eliana parlayed her exceptional communication and networking expertise into significantly improving those organizations' lead generation and thought leadership. Eliana is widely known by dealers, vendors, and OEMs for her educational broadcasts, delving into every topic and challenge facing the auto industry over the last decade and a half. She is also a part-time professional emcee (Digital Dealer, WIA, Innovative Dealer Summit, etc.) who began her broadcast career as the morning personality on the #1 rock and roll station in Philadelphia, 93.3 WMMR. Eliana is a board member of Women in Automotive as well as a US Navy Veteran, having served honorably during the Gulf War.
"2023 is going to be a year filled with game-changing automotive solutions focused on performance and profitability for DEP's dealer partners," says Eliana. "I am thrilled to be a part of Dealer eProcess, a company I have long admired for their progressive approach to solving dealers' challenges by providing award-winning technology with world-class customer care."
About Dealer eProcess
Dealer eProcess is the industry leader in automotive websites and digital marketing working with dealers and OEMs across the United States, Canada, Puerto Rico, and Europe. Dealer eProcess has won dozens of awards and is recognized by the experts as the most technologically-superior website, digital marketing, digital retailing, and DMS attribution solution for automotive dealers. Dealer eProcess is headquartered just outside of Chicago, IL, and has offices in Washington and Arizona. You can learn more about Dealer eProcess on their website: http://www.dealereprocess.com.