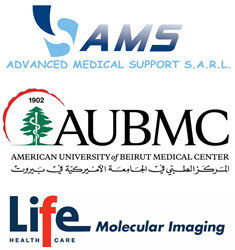 Our strategic partnership with AMS will expand the availability of the innovative molecular imaging agent Florbetaben (18F) to patients in the Middle Eastern and North African Region, contributing to the fight against Alzheimer's disease and other causes of cognitive decline
BERLIN, Germany and BEIRUT, Lebanon (PRWEB) January 26, 2023
Life Molecular Imaging (LMI) and Advanced Medical Support (AMS) announced today that both companies have entered into a strategic partnership and licensing agreement providing AMS with rights to have Florbetaben (18F) manufactured at the American University of Beirut Medical Centre (AUBMC) and to distribute the tracer in Lebanon, Jordan and other countries in the Middle East and North Africa (MENA).
AUBMC will start manufacturing Florbetaben (18F) at their manufacturing site in Beirut, Lebanon, as soon as the technical set-up is finalized.
"It is a great pleasure to have entered into this important manufacturing and distribution agreement with AMS to produce Florbetaben (18F) at the American University of Beirut, Lebanon" – declares Ludger Dinkelborg, Ph.D., Managing Director at LMI. "Our strategic partnership with AMS will expand the availability of the innovative molecular imaging agent Florbetaben (18F) to patients in the Middle Eastern and North African Region, contributing to the fight against Alzheimer's disease and other causes of cognitive decline."
"We are excited to have been selected by Life Molecular Imaging, as we are very proud of having a high end Cyclotron Facility at AUBMC who accepted to sign with us a long term agreement to make the beta-amyloid tracer Florbetaben (18F) available to physicians and patients in the Middle Eastern and North African Region" - says Charbel Bou Maroun, General Manager at AMS.
"In line with our vision for AUBMC to become a leading academic medical centre that strives to transform healthcare through state-of-the-art technology and research for the peoples of the Middle East and beyond, AUB has signed a memorandum of understanding with Life Molecular Imaging" – says Dr. Mohamad Haidar, M.D., Director of the Nuclear Medicine Division and Cyclotron Facility at the American University of Beirut Medical Centre. "This designates AUB as a reference centre in the region for the synthesis of Florbetaben (18F) for the diagnosis of early-stage Alzheimer's disease. The AUB Cyclotron facility will deliver this radiotracer to the region, which not only serves its patients, but also aids in the growth of indications and the development of new procedures relating to beta-amyloid."
About Florbetaben (18F)
Florbetaben (18F)* is a radioactive diagnostic agent used for Positron Emission Tomography (PET) imaging of the brain to estimate beta amyloid neuritic plaque density in adult patients with cognitive impairment who are being evaluated for Alzheimer's disease (AD) and other causes of cognitive decline. [18F]florbetaben has been approved by the FDA and EMA for routine clinical use, and has local regulatory approval in other countries such as UK, Switzerland Japan, Korea and others.
A negative Florbetaben (18F) scan indicates sparse to no amyloid neuritic plaques and is inconsistent with a neuropathological diagnosis of AD at the time of image acquisition; a negative scan result reduces the likelihood that a patient's cognitive impairment is due to AD. A positive Florbetaben (18F) scan indicates moderate to frequent amyloid neuritic plaques; neuropathological examination has shown this amount of amyloid neuritic plaque is present in patients with AD but may also be present in patients with other types of neurologic conditions as well as older people with normal cognition. Florbetaben (18F) is an adjunct to other diagnostic evaluations.
Most Common Adverse Reactions
In clinical trials, the most frequently observed adverse drug reactions in 872 subjects with 1090 Florbetaben (18F) administrations were injection/application site erythema (1.7%), injection site irritation (1.1%), and injection site pain (3.4%).
*Source: US Neuraceq Prescribing Information, Revision 11/2022
About Life Molecular Imaging (LMI)
Life Molecular Imaging (LMI, formerly Piramal Imaging) was formed in 2012 with the acquisition of the molecular imaging research and development portfolio of Bayer Pharma AG. It is now part of the Alliance Medical Group (a member of the Life Healthcare Group) offering an integrated business including research and development laboratories, a network of cyclotrons, radiopharmacies and imaging facilities. By developing novel PET tracers for molecular imaging, LMI is focusing on a key field of modern medicine. The organization strives to be a leader in the Molecular Imaging field by developing innovative products that improve early detection and characterization of chronic and life-threatening diseases, leading to better therapeutic outcomes and improved quality of life. Please visit https://life-mi.com.
About Life Healthcare Group
Life Healthcare is a global people-centred, diversified healthcare organization listed on the Johannesburg Stock Exchange. Life Healthcare has over 38 years' experience in the South African private healthcare sector, and currently operates 66 healthcare facilities in southern Africa. Services include acute hospital care, acute physical rehabilitation, acute mental healthcare, renal dialysis, and wellness, occupational health, primary health, and emergency medical services. The Group owns Alliance Medical Group, the leading independent provider of medical imaging services (MRI, CT and PET scans) within Europe, operating internationally across 10 countries. Life Molecular Imaging, a division of Alliance is an integrated pharmaceutical business that includes research and development laboratories, access to a network of cyclotrons and radio-pharmacies and imaging facilities, with Life Radiopharma being Alliance's distributor of radiopharmaceuticals to diagnose many types of diseases. Visit https://www.lifehealthcare.co.za/
About Advanced Medical Support (AMS)
Headquartered in Beirut, Lebanon, is part of conglomerate medical device distributors including Levalis Pharma and Denmat DMCC. originally founded on 2008, the company focus is radiopharmaceuticals and isotopes products with the Goal to become the most reputable and relevant nuclear medicine player in Lebanon and the Middle Eastern and African markets.
About American University of Beirut Medical Centre (AUBMC)
AUBMC has been providing the highest standards of quality care to patients across Lebanon and the region since 1902. What started as a 200-bed capacity hospital is now an over 350-bed capacity medical center. The medical centre meets the health care needs of over 425,000 outpatient visits annually. AUBMC is dedicated to advancing the health of the community in Lebanon and the region through the delivery of exceptional and comprehensive quality care, excellence in education and training, leadership, and innovative research, while maintaining impactful outcomes, international accreditations, and ensuring accessible and sustainable services.
For media queries
Alya Schalabi | Marketing Europe | Life Molecular Imaging
Tel#: +49 151 1456 9895 | mailto:a.schalabi@life-mi.coma [a.schalabi@life-mi.com __title__ null]