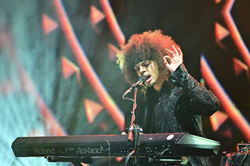 SINGAPORE (PRWEB) January 26, 2023
Singer-songwriter Kris Kollins (ikriskollins on Bigo Live) performed live this month at the 2023 Bigo Live Awards Gala in Singapore. The performance came as the result of a weeks-long push by Fame and Kris's fans to help him win the Bigo's Most Talented Contest in December. Kollins won by several thousand votes, after many late nights of performing and joining other prominent streamers as a guest artist to gain maximum fan exposure.
"It was honestly very overwhelming," Kollins said. "To know that so many people were behind me and wanted me to succeed and represent the USA/CA region… can't put it into words. I hope I made them proud."
Kollins was closely supported in his bid to perform in Singapore by his streaming agency, Fame Talent, which helped coordinate PR, and funded a significant portion of the promotion around Kollins' endeavors.
"We're just so proud of Kris," Fame Talent CEO SammyShayne said. "At the end of the voting, he literally sang until he couldn't sing anymore, and his fans kept voting because we all love him so much. His is a very rare talent, and he worked so hard to accomplish what he did. His talent is one in a million, and it's a privilege to help him grow and succeed in his career. It always feels great when we help our talented performers accomplish great things, and we're just tremendously happy for him and thankful that Bigo Live offered us all this opportunity to shine."
To learn more about ikriskollins and Fame Talent, check out the Q&A at CouchFame.com.
PRESS CONTACT:
Bryan Harris
Chief Revenue Officer
212-470-6605