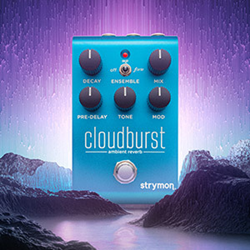 "...Where we ended up is so much more exciting. It sounds equally nice doing long or short-decay ambience" - Pete Celi
WESTLAKE VILLAGE, Calif. (PRWEB) February 02, 2023
Strymon Engineering (http://www.strymon.net), the respected manufacturer of products for the guitar, Eurorack and plugin markets, announced the release of their new Cloudburst ambient reverb pedal today. A powerful tool for ambient sound design, Cloudburst features a hyper-flexible reverb algorithm that excels at both the long and luxurious tails Strymon is known for, as well as shorter decays for wider applications. A new Ensemble feature creates orchestral-inspired pads and soundscapes that organically follow your playing, giving you different results if you change pickups or play in a different place on the neck. Add stereo TRS inputs and outputs, a TRS MIDI jack, USB-C for computer and MIDI access, full MIDI capability and Freeze/Infinite functionality, and you get a powerful reverb workstation in the smallest enclosure Strymon has ever released.
"We've been wanting to offer smaller and more focused designs for awhile now, but it took some time to create a new platform for these products", said Gregg Stock, co-founder and Strymon CEO. "We're super-excited to see what people do with it - it's a deceptively powerful pedal, and nothing else sounds like it". Pete Celi, Strymon co-founder and signal processing guru agrees: "initially, we just wanted to create an all-around great-sounding reverb in a smaller and simpler package, but where we ended up is so much more exciting. It sounds equally nice doing long or short-decay ambience, and the new Ensemble engine allows it to create sounds and organic textures that you can't get anywhere else."
Cloudburst comes in a smaller light-blue enclosure with a single foot switch, and is available directly from Strymon and at select retailers worldwide, for $279 US.
Videos covering the launch and sound samples can be found HERE.
For additional information please check out the official product page, and contact
marketing@strymon.net with any press or media inquiries.
About Strymon:
Based in Westlake Village, CA, Strymon Engineering manufactures an award-winning line of guitar effects pedals, Eurorack modules, MIDI interfaces, hyper-robust power supplies and DAW plugins, all made in the USA. Their products are mainstays in the rigs of top recording and touring professional musicians worldwide, helping players craft their own signature sounds with creative, powerful and road-worthy gear.