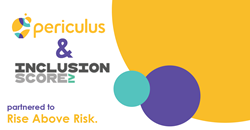 When it comes to DEI training and strategies, Inclusion Score is the premier leader and literally wrote the standard to follow.
PURCELLVILLE, Va. (PRWEB) February 01, 2023
Periculus, LLC, a technology start-up that simplifies access to insurance and risk management tools for small to medium-sized businesses ("SMBs"), announced today its partnership with Inclusion Score, a corporate DEI scoring and strategy platform, with a mission of standardizing and incentivizing inclusion in corporate culture. The partnership comes as Periculus launches its virtual risk manager app, Risk Concierge.
Risk Concierge by Periculus is an easy-to- use app, available in the Apple and Google Play stores, and online. Risk Concierge provides users with the unique ability to virtually assess, mitigate, and manage a 360° view of their business risks, including Human Capital, Compliance, Financial, Cyber, Physical, and Business Health risks. Users can peruse the Risk Concierge Services Marketplace and explore curated risk management services designed to address these various risk domains, along with risk assessments created by risk professionals, education, community features, and more. With the addition of Inclusion Score to the Risk Concierge Services Marketplace, users have access to training and strategies developed by the global leader in Diversity & inclusion change management.
Rooted in the ideals of Inclusionism, Inclusion Score was developed at Keith Institute in tandem with the development of the International Standards Organization (ISO) standard for Diversity Equity Inclusion and Belonging in 2018. Today, the Inclusion Score team of international relations and risk management experts are focused on providing resources to companies with a desire to deploy inclusivity as a regular part of change management processes across their entire supply-chain.
"Lack of inclusion is a risk factor that corporations in the U.S. and globally are recognizing as they strive to improve corporate environments and cultures. We are delighted to make Inclusion Score available to Periculus users through their newly launched app, virtual risk management tool, Risk Concierge." Inclusion Score Founder/CEO James Felton Keith commented, "This partnership will allow our platform and DEI risk strategies to reach a broad range of companies and make a positive impact on companies and their employees."
"It has been Periculus' mission to give small and medium-sized business access to enterprise level solutions. When it comes to DEI training and strategies, Inclusion Score is the premier leader and literally wrote the standard to follow." says Danielle Kaminski, President – Periculus. "It is an exciting step for us to partner with Inclusion Score. Risk Concierge users interested in improving their company culture and addressing their diversity and inclusion management will benefit greatly from Inclusion Score's offerings."
The Risk Concierge by Periculus app is available in the Apple and Google Play app stores by clicking one of the below links:
For Android: https://play.google.com/store/apps/details?id=com.periculus.riskconcierge
For Apple: https://apps.apple.com/us/app/risk-concierge/id1608062854
About Inclusion Score:
Inclusion Score Inc. is the world's largest certifying body in the international ISO-30415 standard for Diversity & Inclusion (D&I). The wholly owned Inclusion Brokerage Services is a Manages General Underwriter (MGU) for risk transfer policies relation to D&I incidents like Employment Practices Liability (EPL) and Directors and Officers (D&O). The Inclusion Score software platform is the most widely used workflow management and auditing system for organizational D&I and underwriting tool for evaluating D&I risk management capabilities across all organization types.
About Periculus:
Periculus exists to support small and medium-sized businesses with access to robust enterprise-level solutions tailored to the size of their business. Led by risk professionals committed to innovation, transparency, and resiliency, Periculus takes the guesswork out of understanding and managing risk. Our new virtual risk manager, Risk Concierge by Periculus, combines free risk assessments and recommendations, a services marketplace, access to insurance – as well as dynamic education and community features – all in one convenient app. Download the Risk Concierge App or visit http://www.periculus.com today to get started.