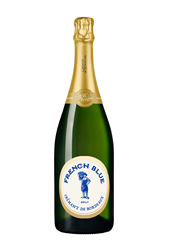 "Our new Crémant de Bordeaux, Brut and Crémant de Bordeaux, Brut Rosé are lovely examples of fresh yet complex wines that are full of depth and personality. They're also wonderful to pair with food – I particularly enjoy a glass with oysters, a specialty of this area." - Stephanie Rivin, Winemaker
ST. HELENA, Calif. (PRWEB) February 01, 2023
Brighten up the winter months with new Crémant de Bordeaux offerings from French Blue. The French winery with an American twist is adding two sparkling wines to its lineup of classic varieties that marry the best of old and new world styles. The new Crémant de Bordeaux, Brut and Crémant de Bordeaux, Brut Rosé are available nationwide beginning this month at a suggested retail price of $24.99.
"Of all the world's winegrowing regions, Bordeaux has an especially lauded reputation and is widely celebrated for its red wines. Lesser known is that the area also produces excellent sparkling wines, designated Appellation Crémant de Bordeaux (AOC)," said Stephanie Rivin, winemaker, French Blue. "Our new Crémant de Bordeaux, Brut and Crémant de Bordeaux, Brut Rosé are lovely examples of fresh yet complex wines that are full of depth and personality. They're also wonderful to pair with food – I particularly enjoy a glass with oysters, a specialty of this area."
The wines are sourced from the Nouvelle-Aquitaine region of Bordeaux, where historically sparkling wines were aged in the natural caves and grottos along the banks of the rivers Garonne and Dordogne. The high humidity created ideal conditions to store the wines. Rivin uses the labor-intensive "Méthode Traditionnelle," meaning the wines undergo a second fermentation after bottling. The wine is aged sur lie for more than 12 months, developing nuanced flavors.
The Crémant de Bordeaux, Brut is composed of Merlot, Sémillon and Muscadelle. It's pale gold in color with an elegant stream of fine bubbles. Aromas of white flowers, sweet almonds and a touch of wild strawberry complement the creamy mousse and flavors of toasty brioche on the finish. Beautiful salmon pink in color, the Crémant de Bordeaux, Brut Rosé is 99% Merlot, and offers a bouquet of raspberry and red currants, a fresh hint of mint, and lingering notes of vanilla.
"These new wines really capture the French joie de vivre, or "joy of life." They are elegant yet approachable and simply a pleasure to sip," said Pam Novak, Vice President of Marketing, C. Mondavi & Family. "In just a few years, French Blue's popularity has grown, and the winery is known for beautiful, classic wines. Timed for Valentine's Day and spring celebrations, the new Crémant de Bordeaux releases are sure to be a welcome addition to our fans' tables."
The complete French Blue line also includes delicate AOC Rosé (Entre-Deux-Mers), crisp AOC Sauvignon Blanc (Entre-Deux-Mers), and ripe AOC Bordeaux Rouge (Right Bank, Périssac). Since the winery was founded, Rivin has built relationships with premium, family-owned vineyards and works closely with growers to select ideal grapes for each vintage. French Blue still wines are available nationwide at a suggested price of $15.99 per 750ml bottle. Visit FrenchBlueWine.com to learn more.
About French Blue
French Blue wines have set out to do something new, put an American twist on Bordeaux wines, while making deliciously intriguing, yet accessible French offerings for all. The line of Appellation Bordeaux Contrôlée (AOC) wines is sourced from specific vineyard sites in Périssac, on Bordeaux's Right Bank, and the Entre-Deux-Mers region. Made with great respect for the land and vineyards, each of the wines has a modest charm that beckons to be enjoyed with friends. For more information visit FrenchBlueWine.com and follow along on Instagram @French_Blue_Wine and Facebook @FrenchBlueWine.