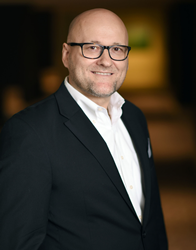 "We are happy to announce that under Mike's leadership, the credit union has remained prosperous and stable; and is strategically aligned to meet the needs of our members for years to come"
LOS ANGELES (PRWEB) February 01, 2023
Water and Power Community Credit Union (WPCCU) Board of Directors takes pleasure in announcing the appointment of Mike Tufegdzich as the new Chief Executive Officer, effective February 1, 2023. Mike has served as the Interim CEO since July 7, 2022. He has been an employee of the credit union for twenty-nine years, and until this appointment served as Executive Vice President/Chief Operating Officer. "We are happy to announce that under Mike's leadership, the credit union has remained prosperous and stable; and is strategically aligned to meet the needs of our members for years to come", says CFO, Felipe Castaneda.
Mike T. has served in many capacities since joining WPCCU as Branch Manager of the Hope Street office. With his wide ranging financial services experience and willingness to step up came other leadership opportunities in sales, lending, collections, compliance, real estate, and IT departments. Mike often says, "The credit union's employees are its most valuable assets. My main role is to lead and mentor them so that they can help our members achieve their financial success." Mike is also a strong supporter of the credit union's Diversity, Equity, Inclusion, and Belonging Committee. "We are very happy to have Mike's leadership as he is a strong advocate who embraces the fact that it is through DEIB acceptance that we strengthen our employees to better serve all of our members, " says COO, Patrice Mustafa.
About Water and Power Community Credit Union Water and Power Community Credit Union (WPCCU), headquartered in Los Angeles, is committed to the safety and well-being of the Los Angeles Community, its members and staff. WPCCU was formed in 1936 by a group of employees of the Department of Water and Power in downtown Los Angeles. All people who live, work or go to school in Los Angeles and San Bernardino County can open an account. Currently, assets are over $950 million. The credit union serves over 42,000 members in the Greater Los Angeles Metropolitan Area.
###