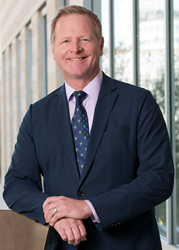 "His approach to investment management takes the emotion out of the decision-making process, allowing us to provide more portfolio solutions better-tailored to our clients and their specific goals." Luke Patterson, Avidian's CEO
HOUSTON (PRWEB) February 02, 2023
Avidian Wealth Solutions announced today that experienced investment advisor Greg Litts has joined its growing team. Litts brings over 20 years of experience in portfolio management and financial analysis to the firm. Not only was Litts able to grow his own investment firm to more than $350 million in assets under management, he also managed the creation of a hedge fund for a merchant bank as well as principally traded stocks and bonds as Vice-President of the OTC/ NASDAQ trading desk at Morgan Keegan.
"We couldn't be more excited to be adding such a successful investment advisor to our team," says Chief Operating Officer Jim Atkinson of Litts. "Greg's decades of knowledge and relationship building will be vital assets to both our clients and the team as a whole."
"Greg will be an invaluable partner for the business owners and corporate professionals Avidian serves," said Avidian Chief Executive Officer Luke Patterson of Litts' credentials. "His approach to investment management takes the emotion out of the decision-making process, allowing us to provide more portfolio solutions better-tailored to our clients and their specific goals."
2022 was a year of tremendous growth for the Houston-based wealth management firm in terms of personnel and in regard to their total assets, with $3.5 billion in current assets under management and counting. Earlier in the year, Avidian was named one of the 100 fastest-growing RIA firms in the United States featured by Citywire* and named runner-up for the fastest-growing RIA firms in the state of Texas by the Houston Business Journal**.
ABOUT AVIDIAN WEALTH SOLUTIONS
Avidian Wealth Solutions is a Houston-based team of independent fiduciaries who are committed to meeting the unique needs and challenges of our clients. With a comprehensive and evolving suite of services including but not limited to financial planning, investment management, and insurance solutions, we strive to minimize risk through all aspects of our business, by understanding trends and planning strategically — while consistently maintaining our core values of trust, credibility, and transparency. For more information, visit Avidianwealth.com or find us on LinkedIn and YouTube.
*Please Note: Citywire is a London-based financial publishing and information group that provides news, information, and insight for professional advisers and investors around the world. Avidian Wealth Solutions, LLC, was selected by Citywire for inclusion in this rating based on publicly reported numbers. There was no interaction, survey, advertisement, or compensation involved between Avidian and Citywire regarding this rating. Citywire considered RIAs from all fifty states that publicly reported having a significant number of financial planning clients, as well as firms not affiliated with a broker-dealer or other institution. Winners and runners-up were chosen using a percentage of growth in AUM, monetary growth in AUM, percent growth in employees (during 2021) combined into a single measure of growth.
**Please note: To be considered in this ranking, Avidian Wealth Solutions, LLC ("AWS"), responded to a request for information from the Houston Business Journal ("HBJ"). The information was provided via a standardized questionnaire completed by members of the Avidian Operations Team. The information was not independently verified by HBJ. Only Houston area firms that responded to the inquiry were included in The List. The information provided was based on Avidian Wealth's, 2021 firm data. The List includes two rankings of the 2022 largest Houston-area money management firms. One ranking is based on total assets under management ("AUM") as of December 2021 and the other ranking is based on assets under management in the Houston area (locally). The top twenty-five firms were included and ranked according to the most AUM. No compensation has been provided directly or indirectly by AWS in connection with obtaining this ranking.
########
For more information, please contact Justin King at 281-822-8802 or email justinking@avidianwealth.com.