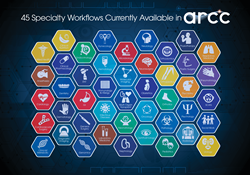 "As the Apollo Repository for Clinical Content, arcc, supports health systems to organize and access medical imaging across numerous departments, provides efficient workflows that drive effective care, and converges viewing into a single pane of glass."
TYSONS, Va. (PRWEB) February 07, 2023
Apollo, a leading provider of enterprise imaging and clinical multimedia management solutions, has been awarded a national group purchasing agreement for clinical workflows with Premier, Inc. Effective December 1, 2022, the new agreement allows Premier members, at their discretion, to take advantage of special pricing and terms pre-negotiated by Premier for Apollo's enterprise imaging and clinical workflows solution, arcc®.
"We are excited to be awarded this agreement for our arcc solution," said Mark Newburger, Apollo President and CEO. "As the Apollo Repository for Clinical Content, arcc, supports health systems to organize and access medical imaging across numerous departments, provides efficient workflows that drive effective care, and converges viewing into a single pane of glass."
Apollo brings a unique solution as the primary clinical system for both orders- and encounters-based imaging workflows for 45 specialty-specific departments across the healthcare enterprise. Apollo arcc provides specialty-specific workflows for the easy acquisition and access of patient clinical media and data collected by healthcare providers while protecting patient privacy. It is a comprehensive solution with a foundation designed specifically for enterprise imaging use.
Premier is a leading healthcare improvement company, uniting an alliance of approximately 4,400 U.S. hospitals and 225,000 other providers to transform healthcare. With integrated data and analytics, collaboratives, supply chain solutions, consulting and other services, Premier enables better care and outcomes at a lower cost.
If you are a Premier member, email Apollo at sales@apolloei.com to learn more about the contracting process.
About Apollo
Apollo is a healthcare IT company with a reputation for delivering quality Enterprise Imaging solutions that address both clinical multimedia workflow management needs and vendor neutral storage requirements. Apollo's Enterprise Imaging solution, arcc, provides a holistic longitudinal view of all patient data and focuses on clinical workflows, interoperability, and connectivity so that every department throughout the entire enterprise can securely acquire, view, manage, store, and access all clinical content. Integrating arcc to the electronic health record (EHR) provides clinicians a single view of the longitudinal patient record to achieve the goal of: ONE Patient, ONE click, EVERY 'ology. Used successfully in hospitals across the United States and Canada for 30 years. Visit https://www.apolloei.com/ to learn more.
# # #