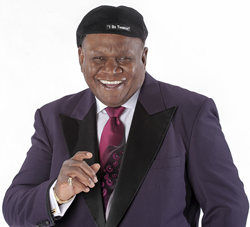 "The Humor Mill Comedy Awards holds special significance as a tribute to the rich cultural heritage of the African-American community during Black History Month," says Founder Frank Holder
HOLLYWOOD, Calif. (PRWEB) February 13, 2023
The Inaugural Humor Mill Comedy Awards unveils its distinguished honorees and remarkable nominees for a celebration of the funniest and most talented performers in television, film, and social media Tuesday, February 21 at The Director's Guild of America (DGA). Veteran television writer and producer Ralph Farquhar and world renowned comedic legend George Wallace blaze the trail as the pioneer recipients of the Icon and Lifetime Achievement Awards commemorating their legacy of laughter.
As the genius behind hit shows like "Moesha," "The Parkers," "Married…with Children," "The Proud Family," and the and the Emmy-Award winning Disney+ Original "The Proud Family: Louder and Prouder," television executive producer and writer Ralph Farquhar is tapped to receive the prestigious Icon Award. His significant impact on the world of television has produced some of the most beloved shows of all time and has shaped the understanding of urban comedy in scripted television. Stand up comedy maestro George Wallace will be presented the esteemed Lifetime Achievement Award for his over four decades of selling out comedy clubs and concert venues all over the globe. Wallace began his career in comedy as a writer for "The Redd Foxx Show" and went on to make huge waves in stand-up comedy, television and radio. He turned classic film roles into unforgettable characters with his captivating performances in classic films like "Car Wash," "Batman Forever," and "Little Nicky," to name just a few.
"The Humor Mill Comedy Awards holds special significance as a tribute to the rich cultural heritage of the African-American community during Black History Month," says Founder Frank Holder. "With unique perspectives and experiences, urban comedians bring the power of healing, unity, upliftment and resilience to the art form of comedy generation after generation."
A hand-picked cohort of comedy royalty, nominated by the comedy elite and chosen from the finest crop of comedic stars and social influencers, make up the first-ever Humor Mill Comedy Awards line-up. Below is a list of categories and nominees:
BEST SITCOM

REAL HUSBANDS OF HOLLYWOOD (BET+)
FLATBUSH MISDEMEANORS (SHOWTIME)
MS PAT SHOW (BET+)
THE UPSHAWS (NETFLIX)
SOUTHSIDE (HBOMAX)
THIS FOOL (HULU)
BEST COMEDIC ACTRESS IN TV/FILM
CHANDRA RUSSELL- SOUTHSIDE (HBOMAX)
MS PAT- THE MS PAT SHOW (BET)
B. SIMONE- FINDING HAPPY (BOUNCE)
KIM FIELDS- THE UPSHAWS (NETFLIX)
JANELLE JAMES- ABBOTT ELEMENTARY (ABC)
BEST COMEDIC ACTOR IN TV/FILM
BASHIR SALAHUDDIN- SOUTHSIDE (HBOMAX)
BARRY BREWER- BRUH (BET+)
KING KERAUN- MILLENNIALS (ALLBLK)
DC YOUNG FLY- WILD N' OUT (MTV)
JACKIE LONG- REAL HUSBANDS OF HOLLYWOOD (BET)
FRANKIE QUINONES- THIS FOOL (HULU)
FUNNIEST FILM OF THE YEAR
EASTER SUNDAY
HONK FOR JESUS
DAY SHIFT
SANTA GAMES
MEXZOMBIES
SKETCH OF THE YEAR
DAPHNIQUE SPRINGS- LIL NELLY AND I PARENT TEACHER ZOOM CONFERENCE
THE ENKY BOYS- WILL SMITH/CHRIS ROCK, OSCARS
JASON BANKS- MUSIC COMPILATION
WHEN YOUR GIRL CATCHES YOU LYING- TREY MOE
WHEN THE WHOLE CREW IS STUPID- BIG JAH
COUGAR CHRONICLES- TRENDY TOPIC TIFF
NUEVAYOL- COLUMBUS DAY STOLEN CAR
KOUNTRY WAYNE- WHEN YOUR EX COUGAR GIRLFRIEND POPS UP
BEST COMEDIC ACTRESS-SOCIAL MEDIA
DAPHNIQUE SPRINGS
PRECIOUS KUTIE
INDIREMY COMEDY
KAT FLORENCE
AKILAH HUGHS
WHITNEY LABEL
Chris Spencer, the mastermind behind "The Real Husbands of Hollywood" and head penman for "Wild 'n Out," will rock the mic as host. The show will get a double dose of hilarity with the comedic flair and golden punchlines of Detroit co-host Tony Roberts. Adding his own brand of humor, comedian Juhahn Jones will deliver quick-witted behind the scenes moments as social media correspondent.
Voting for nominees is open through February 17 and votes can be cast here. Pre-show media interview opportunities are available upon request including a virtual press day featuring Chris Spencer, Tony Roberts and Juhahn Jones Monday, February 16 from 10 a.m.- 12:30 p.m. PST. More information about Humor Mill can be found at http://www.humormilltv.com.
ABOUT HUMOR MILL
Humor Mill is the premier destination for all things urban comedy boasting a comprehensive platform including its news website, digital magazine, internet radio and linear cable broadcast channels. Its integrated suite of platforms reach over 4 million households with original and syndicated programming including comedic films, stand-up comedy, sketches, interviews, documentaries and more. With over 100,000 monthly website hits, 35,000 digital magazine subscribers, and 23,000 monthly radio listeners, Humor Mill is on the cutting edge and forefront of the comedy world. For more information on Humor Mill, visit http://www.humormilltv.com or connect on social media @humor_mill on Instagram, @thehumormill on Twitter and @HumorMill on Facebook.
ABOUT THE HUMOR MILL COMEDY AWARD SHOW
The Humor Mill Comedy Award Show was established as a way to honor and celebrate the diverse, dynamic world of urban comedy. Recognizing the hard work and influence of comedians in shaping mainstream culture, the show will educate audiences on the history and future of comedy. The show will pay homage to comedians through tributes including The Icon and Lifetime Achievement Awards to celebrate their contributions to the field. For more information on Humor Mill, visit http://www.humormilltv.com or connect on social media @humor_mill on Instagram, @thehumormill on Twitter and @HumorMill on Facebook.