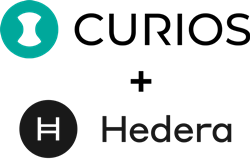 Curios has integrated more blockchains than any other Web3 platform in the world...
AUSTIN, Texas (PRWEB) February 22, 2023
Today, Curios has announced the completion of integrating the Hedera Hashgraph blockchain directly into its Web3 platform. Curios offers Web3 tools and APIs that make utilizing blockchain technologies easier. With the addition of Hedera, Curios now boasts integration with 7 total blockains, including Ethereum, Polygon, Solana, Binance, Avalanche, Near/Aurora, and Hedera Hashgraph.
This integration brings Curios' full Web3 tool suite to the Hedera Hashgraph Blockchain, and brings the ability for Curios users to start deploying smart contracts and NFTs on Hedera. The main tools available from this integration are smart contract deployments, NFT minting, token creation, token gated content, and advanced payment rails that allow users to interact on Hedera using wither fiat or any cryptocurrency as opposed to Hedera's native token HBAR.
"We are excited to be at the forefront of this technology," said Grant Powell, founder of Curios. "Our integration with Hedera Hashgraph will enable us to provide our customers with another method of buying and selling collectibles and digital items online."
The first project to deploy an NFT collection through Curios' Hedera integration saw over 120,000 new Hedera wallets created and saw 175,000 NFT's minted in the first two weeks. "These numbers validate Curios' business model of putting the user first, while maintaining the decentralization and security of blockchain based transactions. Reducing barriers to entry for users to adopt Web3 technologies is Curios' core mission. Successful integrations like our recent integration with Hedera illustrate why the user focus is so important" continues Powell.
The blockchain activity powered by Curios got noticed by leaders of the Hedera team and the Hedera community - there was lots of excitement and buzz about Curios now being a major driver of activity for the Hedera network. See Twitter thread here: https://twitter.com/bmgentile/status/1612960927065800705
Curios makes it easier to onboard users into the Hedera network as users do not need to have HBAR, Hedera's native cryptocurrency, to interact with Hedera based smart contracts. All blockchain processing can happen behind the scenes while tracking the interactions on a Hedera based blockchain explorer. This provides the convenience needed for mass adoption as well as full transparency. Curios also offers custody wallet solutions that can further help onboard non-technical users that want to interact with the content.
Hedera represents the second non Ethereum Virtual Machine blockchain to be added to Curios' suite of tools, and the seventh blockchain to be available to all of Curios users. "Curios is constantly seeking to offer its community of users and creators access to available technologies in the space and is happy to add Hedera as an option for users" Greg Keogh vice president of strategy reports. Keogh continues "Hedera boasts high speed and scalability as well as strong security which combined to make it a great option for Curios next blockchain offering."
For more information about Curios, please visit our website at http://www.curios.com.
About Curios
Curios is a leading provider of blockchain solutions and Web3 tools. With a focus on delivering secure and reliable solutions, Curios is dedicated to helping businesses and individuals succeed in the world of blockchain technology.
About NFTs
​​NFTs, or non-fungible tokens, are unique digital assets that are stored on a blockchain, making them resistant to tampering and counterfeiting. NFTs can represent a wide range of digital and physical assets, such as artwork, music, videos, and even virtual real estate. NFTs allow for the creation of verifiable and provably scarce digital assets, which can be bought, sold, and traded just like physical assets. This has led to a surge of interest in NFTs, particularly in the art world, where they are being used to represent and sell digital art.
About Hedera Hashcraft
Hedera Hashgraph is a distributed ledger technology platform that aims to provide a fast, secure and fair way for people to transact online. The platform is designed to use a new type of consensus algorithm called the "Hashgraph" algorithm, which is said to be faster and more secure than traditional blockchain technology. The platform also utilizes a virtual voting system and a governance model to ensure that the network is decentralized and controlled by a council of trusted organizations. The platform's native cryptocurrency is called HBAR and it can be used for transactions, micropayments, and access to decentralized applications built on the Hedera Hashgraph network.
About HBAR
HBAR is a cryptocurrency that operates on the Hedera Hashgraph network, which uses a different consensus algorithm than traditional blockchains. It aims to provide fast and secure transactions at a low cost, with a focus on enterprise use cases. HBAR is used to pay for network fees and access to decentralized applications built on the Hedera network.
About Blockchains
A blockchain is a decentralized, digital ledger that records transactions in a way that is secure, transparent, and tamper-proof. It uses cryptography and a distributed network of computers to maintain a continuously growing list of records, or blocks, which are linked and secured using complex mathematical algorithms. Each block contains a cryptographic hash of the previous block, making it virtually impossible to alter the data without detection. This makes blockchains ideal for applications where transparency, security, and trust are important, such as in financial transactions, supply chain management, and voting systems.