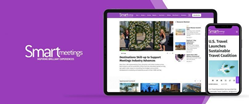 "This is a clear example of why our WordPress retainers provide such a diverse approach that's both applicable and practical in terms of digital presence" - Mario Peshev, DevriX
SOFIA, Bulgaria (PRWEB) February 16, 2023
This month DevriX, a leading WordPress development company, commemorates a seven-year impactful collaboration with Smart Meetings, the leading meetings industry publisher and voice of inspiration for meeting professionals.
The companies' collaboration began in early 2015 when Smart Meetings tapped DevriX to facilitate a website migration from a custom platform built on top of Zend Framework for WordPress. The process included rebuilding their theme to a responsive and clean layout, breaking their content down to over a dozen post types for different types of information, transferring their custom search tools to WordPress plugins, and integrating several third party systems.
The initial relaunch occurred in just two months, requiring impactful expertise to migrate nearly 100,000 different data entries and build a unique design with their main toolkit.
Since completing this first migration, DevriX has allowed Smart Meetings to continually mature its digital products and services to accommodate an ever-evolving digital landscape.
"As our sales and development teams recognized a demand for new products and services, DevriX stepped up, deploying its expertise to quickly and efficiently put together new product iterations, including native content offerings, event landing pages, and other lead gen products," said Marin Bright, founder and CEO of Smart Meetings. "The digital world is changing quickly, and DevriX has been right there with us, allowing us to offer compelling products that keep us relevant and profitable."
Throughout their partnership, Smart Meetings web traffic has increased by 350 percent, and sessions originating from Google increased nearly 5x, reflecting the impact of enhanced service offerings and SEO optimization.
"It's an honor for DevriX to continuously help grow and nurture our relationship with Smart Meetings. This is a clear example of why our WordPress retainers provide such a diverse approach that's both applicable and practical in terms of digital presence," said Mario Peshev, CEO at DevriX. "We are excited to celebrate seven years of partnership with Smart Meetings. We are proud of the work we have accomplished together over the past seven years, and we are looking forward to continuing to grow and evolve with Smart Meetings in the future."
About DevriX
DevriX is a Top 20 WordPress development agency worldwide specializing in technical and growth retainers for SMEs, fast-paced startups and global enterprises. The agency scales websites past 500,000,000 monthly page views and builds bespoke solutions with ROI in mind. Founded in 2010 by Mario Peshev, DevriX ranks in the top most highly recommended B2B companies in Clutch.co's industry reports by region. Devrix has developed 9 SaaS applications and over 500 plugins, having migrated dozens of proprietary and open-source frameworks and platforms to WordPress. To learn more about DevriX, visit https://devriX.com/.
About Smart Meetings
Smart Meetings is the leading meetings industry publisher and voice of inspiration for meeting professionals. We inspire our audience of meeting and event professionals to dream big—and create brilliant experiences that delight attendees, achieve desired results, and elevate the impact of the meetings industry. Smart Meetings publishes cutting-edge meetings content in print and digital, hosts world-class networking events, produces Smart Chat Live! CEU-accredited webinars, and offers a myriad of digital resources. The publication annually awards the prestigious Smart Stars and Platinum Choice Awards to hospitality companies that meet the publication's high standards.