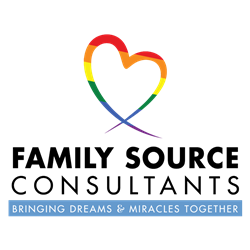 Together, Family Source Consultants and Gays With Kids hope to continue inspiring and supporting queer men all over the world while making access to fatherhood that little bit easier.
CHICAGO (PRWEB) February 17, 2023
Partnering with the world's largest resource for gay men is a match made in heaven for Family Source Consultants - and a sure win for queer dads.
As one of America's leading third-party reproduction agencies, Family Source Consultants has been helping gay men realize their dreams of fatherhood for over 16 years. Last month, the agency became an official sponsor and vetted a family-building partner for Gays With Kids.
GWK is a services company and online resource dedicated exclusively to assisting gay, bi, and trans dads and dads-to-be in their journey through fatherhood. FSC Chief Business Development Officer Alan Osborne said that the partnership was a win for both parties - as well as gay men around the world.
"We work with a large percentage of same-sex male couples. Many of them feel overwhelmed, not knowing where to start," he says. "GWK was created to inspire, educate, motivate, and navigate Intended Fathers through all the necessary checkpoints involved in a family-building journey. FSC is a third-party reproduction agency with an impressive egg donor and surrogacy program, so it made sense to partner with an organization focused on empowering and educating same-sex male intended parents on their path to parenthood."
Central to the Family Source philosophy is the belief that everyone has the right to be a parent, regardless of their biological ability or sexual orientation. The agency is an avid supporter of the LGBTQ+ community and firmly believes in inclusivity for all individuals. Approximately half of FSC's Intended Parents are LGBTQ+, with gay men making up most of their clientele. All IPs receive expert care, support, and guidance as they embark on their journey through egg donation and/or gestational surrogacy.
FSC founder and CEO Staci Swiderski says that Family Source has always been passionately committed to equality.
"We pride ourselves in having the expertise, knowledge, and compassion to best guide and support gay, bisexual, and transgender men in becoming fathers via surrogacy and egg donation. FSC's partnership with Gays with Kids amplifies the support we can provide to hopeful fathers, with endless resources."
Gays With Kids has been striving to change societal views toward gay parenting since 2014. One of its most popular services is the GWK Academy, which launched in early 2022. The GWK Academy is a learning platform that provides comprehensive online courses for each pathway into fatherhood, including surrogacy with IVF, adoption, and foster care, and includes the only Surrogacy and IVF Guide filled with information and advice for every single step of the journey a dad-to-be may encounter.
Together, Family Source and Gays With Kids hope to continue inspiring and supporting queer men all over the world while making access to fatherhood that little bit easier.
ENDS