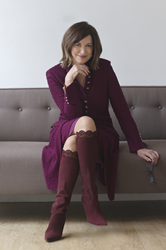 "I wrote this book to educate people as they contemplate, navigate, and recover from the divorce process. There are so many questions and decisions that people are being asked to make throughout the divorce process, at a time when people are emotional and facing uncertainly," said Clemens
BOSTON (PRWEB) February 21, 2023
Gabrielle Clemens, Certified Divorce Financial Analyst (CDFA®), JD, LLM, Accredited Estate Planner (AEP®), is excited to announce that she has published a book entitled, "Marriage is About Love Divorce Is About Money®" – the first in The Business of Divorce® series with more to come.
The book is a step-by-step guide through the legal and financial aspects of divorce from an attorney and certified divorce financial advisor's perspective and provides guidance on developing an action plan and comprehensive strategy for anyone who is contemplating, navigating, or recovering from the divorce process. Topics include: How to navigate the legal process, how to understand and document finances, and how to build an emotional support system.
"I wrote this book to educate people as they contemplate, navigate, and recover from the divorce process. There are so many questions and decisions that people are being asked to make throughout the divorce process, at a time when people are emotional and facing uncertainly. My goal is to provide insight and a guide to the divorce process so that people can make informed, sustainable decisions about their future," said Clemens.
Gabrielle joined the financial services industry after working several years as both a divorce and trust and estate planning attorney with an emphasis on tax. She earned a graduate law degree in taxation (LLM) from Boston University School of Law and a Juris Doctor (J.D.) degree from the University of New Hampshire School of Law. She scribes a monthly Ask Gabrielle column in Boston Common Magazine and has been recognized with several prestigious awards, including being named a Forbes Top Women Wealth Advisor Best in State, a Forbes Best-In-State Wealth Advisor, a Working Mother's Top Wealth Advisor, and Advisor Hub - #1 Advisors to Watch.
Although she has a broad-based clientele, Gabrielle primarily works with high-net-worth and divorced or divorcing individuals and couples. She offers divorce financial planning seminars and workshops throughout New England, is a frequent guest on local and national media outlets, and does many public speaking engagements.
A link to more info can be found here.
Gabrielle can be reached at gabrielle.clemens@gmail.com.