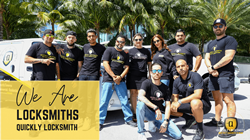 It doesn't just foil burglars. When your keys are secure, it means they're safer from the kind of damage that causes teeth to get worn or the key to be bent.
MIAMI (PRWEB) February 22, 2023
Your door locks are an important part of your home security, and keeping them in good working order means you keep your family and your belongings that much safer.
This doesn't have to be hard or time-consuming. With a little bit of maintenance and upkeep, you can keep your door locks working smoothly and prevent any problems from arising.
1. Clean Your Locks Regularly:
Dirt and debris can accumulate in and around your locks, making it difficult to turn the key.
Over time, turning your key in a lock with this collection of dirt can damage the pins, causing them to become misaligned.
Regularly clean your locks to prevent this. And, you don't need special equipment to do this. Use a soft brush or toothbrush to gently scrub the lock to remove it.
2. Lubricate Your Locks:
Along with cleaning, you need to lubricate them from time to time. Use a silicone-based lubricant or graphite powder to lubricate the lock mechanism.
Lubrication will protect your locks from the elements, especially from water damage, which can cause corrosion. It will also reduce friction within the lock, slowing down wear and tear.
Avoid using oil-based lubricants, as they can attract dirt and cause the lock to malfunction.
3. Replace Worn-Out Keys:
Constantly use damaged keys and they get worn out or further damaged. This makes it difficult to open your locks. If your key is bent or damaged, get a new one made right away.
You shouldn't force a damaged key into the lock either as this can cause it to become damaged as well.
4. Tighten Loose Screws:
Sometimes, the problem can be your door hardware. If you notice that the screws on your lock or door handle are loose, tighten them immediately.
Loose screws can cause the lock to become faulty or even fall off the door.
This one is a simple fix as you can use a screwdriver to tighten any loose screws.
5. Replace Dead Batteries:
If you have a keyless entry lock that runs on batteries, make sure to replace the batteries regularly.
Dead batteries can cause the lock to stop working. You run the risk of being locked out of your home or having the lock fail when you need it most.
Check the battery level of your lock periodically and replace the batteries as needed.
6. Check the Alignment of the Lock:
If your lock is misaligned, parts of the door hardware and the lock mechanism aren't lining up the way they should.
When this happens, there's a good chance your door may still be open, even though you think you've locked it.
Check the lock's alignment periodically, to make sure it's straight and level. If it's not, adjust the strike plate or the lock mechanism to get it back into alignment.
7. Don't Use Too Much Force:
If your lock is not turning, don't force it. Using too much force can damage the lock eventually.
If you're having trouble turning the key, try lubricating the lock first. If that doesn't work, call a locksmith to fix the problem.
8. Install A Deadbolt:
A deadbolt not only provides extra security and can prevent burglars from breaking into your home, but it's also tougher than the average lock. You can avoid excess maintenance entirely.
Deadbolts are often made of durable materials that can withstand wear and tear, which means they can last longer than a standard lock and require less maintenance over time.
If you don't already have a deadbolt installed, consider adding one to your door.
9. Keep Your Keys Secure:
This is given as preventative advice.
It doesn't just foil burglars. When your keys are secure, it means they're safer from the kind of damage that causes teeth to get worn or the key to be bent.
As we told you above, bent and damaged keys can damage a lock, which increases your maintenance costs. Cut them by keeping your keys secure.
10. Upgrade to a Smart Lock:
Smart locks remove the problem of maintaining the mechanical elements of a traditional lock entirely.
However, you will need to make sure that the app you're running your smart lock on is updated. This also goes for any other devices in your home it may be connected to like your doorbell or security cameras.
11. Call a locksmith if you have a problem:
Finally, if you're having trouble with your locks, it's always a good idea to leave the fix to the experts.
Call a professional locksmith to take a look. Locksmiths have the expertise and tools to fix any lock-related problem, and can also offer advice on how to maintain your locks properly.
If you need help or advice …
Don't hesitate to call us. Having an established program of maintenance for your locks prolongs their life. Let's help you set it up. Get in touch with us 24/7 at 305-984-9922 or visit our website for more local Miami locksmith tips.