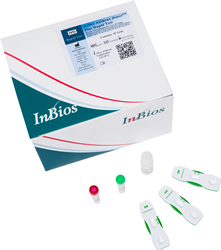 "A fast, accurate test is needed to prepare for a potential bioterrorism attack or outbreak. Our test could play a critical role in thwarting any suspicious activities early on."
SEATTLE (PRWEB) March 01, 2023
Given the possible severity of anthrax infection, early and fast diagnosis is key. InBios International, Inc., a leading developer of diagnostic tests for emerging infectious diseases and biothreats, has been granted the U.S. Food and Drug Administration's (FDA) first marketing rights for an anthrax point-of-care (POC) test. This approval was granted through the FDA's De Novo process for new medical devices or technology where there is no comparable device on the market. InBios' Active Anthrax Detect™ Plus Rapid Test for pulmonary anthrax is for use as an aid in the diagnosis of inhalation anthrax, which occurs by breathing in anthrax spores and is the deadliest form of the disease. This test produces results in about 20 minutes and is intended for use by military personnel, medical and/or healthcare professionals only.
This in vitro immunochromatographic assay provides visual and rapid qualitative detection of the Bacillus anthracis lethal factor protein and can be used to test serum and venous whole blood (dipotassium EDTA, sodium citrate and sodium heparin) from individuals who have signs and symptoms consistent with inhalation anthrax and a likelihood of exposure. While a positive Active Anthrax Detect™ Plus Rapid Test result is presumptively diagnostic for B. anthracis infection, diagnosis of infection must be based on history, signs, symptoms, exposure likelihood, and additional laboratory evidence.
Clinical performance determined that the test had a negative percent agreement (NPA) of 100% and a positive percent agreement (PPA) of >98%. The specificity study (NPA) was conducted at three POC clinical sites in the United States, while the sensitivity (PPA) of the test was evaluated using contrived positive serum samples.
"With ease of dispersal and a high mortality rate, inhalation anthrax is a great threat to the security and safety of the world," said Syamal Raychaudhuri, PhD, InBios Chief Scientific Officer. "A fast, accurate test is needed to prepare for a potential bioterrorism attack or outbreak. Our test could play a critical role in thwarting any suspicious activities early on."
The De Novo classification for the Active Anthrax Detect™ Plus Rapid Test was supported in whole or in part with federal funds from the Department of Health and Human Services; Administration for Strategic Preparedness and Response; Biomedical Advanced Research and Development Authority (BARDA), under contract number HHSO100201700029C awarded in 2017. Additionally, the Centers for Disease Control and Prevention (CDC) provided significant expertise and resources, which contributed toward the development of the Active Anthrax Detect™ Plus Rapid Test.
Anthrax is a zoonotic bacterial disease caused by Bacillus anthracis, a gram-positive, spore-forming bacterium commonly found in the soil of disease-endemic areas. The disease presents with non-specific symptoms that cannot easily be distinguished from many common diseases. Although anthrax infection is rare, risk of infection remains, whether due to bioterrorism or injectional drug usage. For more information, visit http://www.cdc.gov/anthrax.
About InBios: InBios International Inc. specializes in the design, development and manufacture of diagnostic assays for emerging infectious diseases and biothreats. InBios has several products on the market, including point-of-care tests and an over-the-counter test for COVID-19. Located in Seattle, Washington, InBios offers superior quality products which are accurate, easy to use and cost-effective. InBios is GMP compliant, FDA registered, USDA licensed, and ISO 13485:2016 certified. For more information, visit http://www.inbios.com