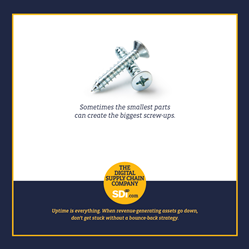 "SDI's culture of innovation is evident not only in their industry-leading solutions, but also in their digital customer engagement strategy." ~ Gavin Finn, CEO & President at Kaon Interactive
BRISTOL, Pa. (PRWEB) March 17, 2023
SDI, the leading provider of digital supply chain services, has announced the launch of Critical Stock as-a-Service (CSaaS), a game-changing service offering designed to revolutionize how businesses manage their critical spares and safety stock, helping organizations prevail in today's supply chain revolution.
As part of their ongoing digital transformation journey, SDI is continuing to drive innovation with the launch of their customer-driven CSaaS solution. "Businesses need to be agile and prepared to navigate the constantly evolving landscape of the supply chain industry," said Jim Owens, Chief Growth Officer at SDI. "At SDI, we have a constant feedback loop with the market and continue to find new ways to help customers meet their goals. That's how SDI's Critical Stock-as-a-Service solution came to be. CSaaS is designed to help organizations ensure the smooth operation of their facilities by minimizing downtime, reducing maintenance costs, and improving the overall reliability of their operations. The launch of this new service is a testament to our customer focus. We are meeting our customers where they are, helping them realize value now, while providing reliable and efficient solutions to get them where they need to be for the future."
In parallel, SDI recognized a need to help their customers better understand the root causes of many of their supply chain challenges and has launched the ZEUS Supply Chain Journey interactive application, built in partnership with Kaon Interactive, designed to explain the connection between day-to-day issues on the floor and global supply chain issues in an intuitive and interactive way. This immersive 3D experience empowers sellers to consistently communicate SDIs vision and differentiated value propositions, while giving their customers the ability to self-discover and explore how SDIs portfolio will generate positive business outcomes.
"The ZEUS Supply Chain Journey application provides SDI with a digital experience that engages buyers on their terms and at their pace," said Gavin Finn, CEO & President at Kaon Interactive. "It truly transforms how SDI sales teams and marketers engage with customers at every step of their problem-solving journey – helping to drive better business decisions faster. SDI's culture of innovation is evident not only in their industry-leading solutions, but also in their digital customer engagement strategy."
SDI's team of experts will be available at booth 110 to showcase the new service offering and interactive storytelling experience, along with providing demos on their IPM and ZEUS mobile ordering apps. Attendees of the SPECS Show will have the opportunity to learn about recent industry trends, network with peers, and gain valuable insights from leading experts in the field.
SDI's commitment to helping the multi-site facilities maintenance and retail industry on its digital transformation journey is unwavering, and this new offering and the immersive storytelling tools used to communicate their differentiated value are further evidence of the company's leadership in the supply chain revolution.
For more information about SDI and its supply chain services, visit their website at https://www.sdi.com/.
About SDI:
SDI is a supply chain solutions and services company that specializes in helping large, multi- site facilities and plant maintenance leaders reduce costs and risks while driving overall performance results and outcomes. Over SDI's more than 50 years of experience, the Company has helped hundreds of organizations align and integrate their parts supply chain with their FM and EAM strategies to drive improvements in KPIs such as first call completion, mean time to repair, and wrench time.
The company's service offering is further enhanced by their ZEUS Digital Supply Chain Management platform which includes the mobile apps — ZEUS Ordering, ZEUS Materials Management, PPE As-A-Service and ZEUS Integrated Parts Management (IPM) — available on the Apple Store.
SDI's digital supply chain solutions coordinate and align with overall facilities management, enterprise risk management, and reliability strategies. Lower costs, smarter inventories and more reliable facilities are all natural results from a more connected supply chain.
To learn more visit: http://www.sdi.com or contact mailto:sales@sdi.com [sales@sdi.com __title__ null]