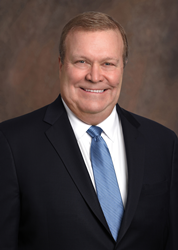 "It is an incredible privilege to join Q5id's Board of Directors at such an exciting time for the company," said King. "I am delighted to work alongside this phenomenal leadership team led by Mike."
HILLSBORO, Ore. (PRWEB) March 13, 2023
Q5id, Inc. announced the appointment of Rick King to the Board of Directors. King was an executive with Thomson Reuters 2000 until his retirement in 2021. He held numerous executive-level roles at the company. Prior to Thomson Reuters, King held executive-level positions at Ceridian Employer Services, Jostens Learning and WICAT Systems Inc. He began his career as a teacher and coach in Vermont.
"Rick King is an innovative strategist with extensive technology, cyber security, mergers, acquisitions, and corporate integrations expertise. His contributions will be invaluable," said Q5id President of the Board of Directors and Chief Executive Officer, Michael F. Marcotte.
"It is an incredible privilege to join Q5id's Board of Directors at such an exciting time for the company," said King. "I am delighted to work alongside this phenomenal leadership team led by Mike."
King serves on the board of directors for Huntington Bancshares, Incorporated. He was named by Minnesota Governor Tim Walz to chair the Blue Ribbon Council on IT in 2019 and he currently chairs the Technology Advisory Council. The Governor also reappointed him to chair the Metropolitan Airports Commission, where he has served since 2011 having been appointed twice by former Governor Mark Dayton. In 2009, he was named by former Governor Tim Pawlenty to chair Minnesota's Ultra High-Speed Broadband Task Force.
King earned bachelor and master's degrees from the University of Vermont as well as a Certificate in Cybersecurity Oversight from the Software Engineering Institute at Carnegie Mellon University.
About Q5id
Q5id is THE premier cyber security software company delivering the BEST identity management solutions in the WORLD. Proven, authenticated, trusted, secure, and managed identity protection, now.
Learn more: Q5id.com.
Contact
Q5id, Inc.
Media Relations
(503) 389-0985
media@q5id.com