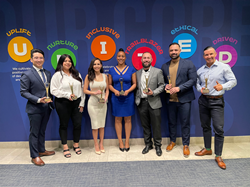 "We are thrilled to continue our remarkable streak of success in the area that matters most to us, service. We recognize that most customers would prefer not to need Optima's services, so we take great pride in ensuring they are taken care of when they do" - David King, CEO
SANTA ANA, Calif. (PRWEB) March 22, 2023
Optima Tax Relief, the leading nationwide tax resolution firm, is proud to announce that it has won four Stevie® Awards for excellence in customer service and technology. The Stevie Awards for Sales & Customer Service are one of the world's top honors for sales, customer service, and call center professionals. This year's awards include:

Frontline Customer Service Team of the Year (Gold)
Customer Service Department of the Year - 100+ employees (first-time finalist) (Gold)
Innovation in Customer Service - Financial Services (Silver)
Best Use of Technology - Customer Service (Silver)
Optima Tax Relief's Customer Service Team was recognized for its outstanding performance in handling customer inquiries, providing timely and accurate information, and resolving customer issues with the utmost professionalism and care. It is Optima's fourth year in a row receiving the gold Frontline Customer Service Team of the Year award for the financial services industry, and their first time winning the gold award for Customer Service Department of the Year (100+ employees). The team's commitment to excellence has helped to establish Optima Tax Relief as a trusted name in tax resolution among clients.
David King, CEO of Optima Tax Relief, expressed his gratitude for the honors stating, "We are thrilled to continue our remarkable streak of success in the area that matters most to us, service. We recognize that most customers would prefer not to need Optima's services, so we take great pride in ensuring they are taken care of when they do. It will be difficult to continue this unprecedented run amongst some of the best brands in the world, but we will have fun taking a run at it."
Chief Customer Officer, Christine Bui added, "These awards are a testament to not only the innovative ways our team delivers exceptional customer service but also the high level of care our team provides for each of our clients. Regardless of what may be going on in their personal lives, our staff consistently shows up for our clients and helps them navigate through a very challenging time in their lives. I am proud of our team and their dedication to providing our clients with the best possible experience."
Optima's use of technology also helped them lead their industry in innovation. The Innovation in Customer Service - Financial Services silver award was given to Optima Tax Relief for its innovative approach to customer service, which includes the use of cutting-edge technology to provide clients with fast and efficient service. The company has developed a range of tools and platforms that enable its customer service representatives to deliver exceptional service to clients, including intelligent call routing, an enhanced client portal, and improved systems.
More than 2,300 nominations from organizations of all sizes and in virtually every industry were evaluated in this year's competition. Finalists were determined by the average scores of more than 170 professionals worldwide in seven specialized judging committees. Entries were considered in more than 60 categories for customer service and contact center achievements, including Contact Center of the Year, Award for Innovation in Customer Service, and Customer Service Department of the Year; 60 categories for sales and business development achievements, ranging from Senior Sales Executive of the Year to Sales Training or Business Development Executive of the Year to Sales Department of the Year; and categories to recognize new products and services and solution providers, among others. Winners were announced at the awards gala held on Friday, March 3 at Caesars Palace in Las Vegas.
Details about the Stevie Awards for Sales & Customer Service and the list of Stevie winners in all categories are available at https://stevieawards.com/Sales.
About Optima Tax Relief:
Optima Tax Relief is the nation's leading tax resolution firm providing assistance to individuals and businesses struggling with unmanageable IRS and state tax debts. Optima's commitment to delivering unparalleled service and results has transformed the tax resolution industry and earned the company numerous honors, including the Torch Award for Ethics from the Better Business Bureau of San Diego, Orange and Imperial Counties, and OneOC's Civic 50. Offering full-service tax resolution and employing over 600 professionals, Optima has resolved over a billion dollars in tax debts for their clients, helping their clients achieve a better financial future by making their tax issues a thing of the past.