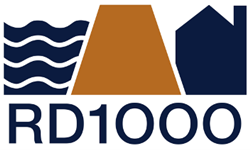 "As a Natomas resident myself, I know many of my neighbors understand the dangers of flooding and see the fee as a small price to pay for the safety of their homes and families."
SACRAMENTO, Calif. (PRWEB) March 20, 2023
By a significant margin Natomas Basin property owners have approved $96.05-million to upgrade and replace antiquated pumps, equipment and other flood protection operations over the next 30 years, officials from Reclamation District 1000 (RD1000) announced today.
The measure was approved by 56-percent of property owners, who were asked to decide on an increase in their annual storm water fees. Of ballots cast, 4,121 were in favor and 3,208 opposed.
"We are thrilled the Natomas community communicated such a powerful statement in support of the need to modernize our flood protection infrastructure," said Kevin King, the General Manager of RD1000. "This vibrant community deserves to grow and thrive without fear of natural disasters. And as we have seen in the past several weeks, flooding threats are vicious, real and worth protecting against."
RD 1000 is in Sacramento and Sutter Counties, north of the city of Sacramento and provides flood protection to the 55,000 acres in the Natomas Basin by maintaining a ring levee system, interior drainage system, and pumping system to discharge stormwater to adjacent rivers and tributaries. The District is also responsible for maintaining several culverts and drains throughout the basin.
The approval by property owners culminates a multi-year process that included an independent audit of the district's vast infrastructure that resulted in a comprehensive set of recommendations for capital assets and projects – as well as how to fund those improvements – in order for RD1000 to meet its flood protection standards.
"As a Natomas resident myself, I know many of my neighbors understand the dangers of flooding and see the fee as a small price to pay for the safety of their homes and families," said Elena Lee Reeder, President of the RD1000 Board of Trustees.
After the RD1000 Board adopted the Capital Improvement Plan and subsequent Comprehensive Financial Plan, the District distributed ballots to parcel owners in January, who've been casting their votes up to the closing of the polls on March 10th. The voter-approved stormwater fee, includes funding for the following pumping plants and other upgrade costs:

$32.4 million (M) in the first decade 2023-2033, with $29.6M planned in the first 6 years
$8.1M over years 2031-2040
$26.9M over years 2041-2050, with several recently replaced critical components reaching the end of their useful lives.
Annual budget of $55,000 to perform cost-effective preventive maintenance for the duration of the CIP, or $1.65M over 30 years.
Annual budget of $900,000 for life cycle replacement of culverts and drains, or $27M over 30 years.
"Our community has made a commitment to improve our flood infrastructure," said Lee Reeder. "I am looking forward to working with RD1000's incredible leadership and staff as we implement this enormous undertaking to protect Natomas for generations to come."
Reclamation District 1000 (RD1000) is a California Special District created in 1911. Its mission is flood protection for the Natomas Basin by providing for the public's health and safety by operating and maintaining the levees and the District's canals and pump stations in a safe, efficient and reliable manner. RD1000 maintains approximately 55,000 acres in Sacramento and Sutter counties.