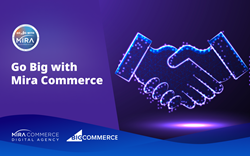 'Mira Commerce's strategic partnership with BigCommerce will allow businesses to leverage the benefits of an agile, composable approach which provides them with a flexible and scalable e-commerce solution to meet their unique business needs.'
WALNUT CREEK, Calif. (PRWEB) March 27, 2023
Digital commerce agency Mira Commerce and BigCommerce (NASDAQ: BIGC), a leading Open SaaS composable ecommerce platform for fast-growing and established B2C and B2B brands, today announced a strategic partnership to provide the industry's most versatile solution for innovative ecommerce to enterprise-level merchants, brands, and distributors.
Mira Commerce, an award-winning California-based digital agency, has been providing e-commerce professional marketing and technology services to online and multi-channel retailers since 2004. As a BigCommerce's Elite Agency Partner, Mira Commerce has broad and deep experience in deploying and supporting client sites, such as L9 Sports, Herrschners, Swann Communications, and WineDirect, among others, and applications leveraging BigCommerce Open SaaS platform APIs, supporting industry vertical and business model-specific merchant requirements. The Mira Commerce team builds custom applications and connectors to expand and enhance BigCommerce functionality, such as Augmented Reality mobile shopping applications and cross-border shipping and payment applications.
BigCommerce provides the most modern enterprise e-commerce platform and toolkit to power global online retail. The technology can be deployed both as a fully-functional end-to-end solution as well as a key component of a composable headless commerce architecture. With BigCommerce as a reliable and proven core e-commerce platform for modern composable client applications, Mira Commerce is launching a family of industry vertical-specific site accelerators and applications to enable merchant innovation at scale.
"In an industry that has significantly evolved over the years, BigCommerce stands out as the most innovative, flexible, and open e-commerce platform and is supported by a very competent and client-oriented team of professionals," said Sergei Ostapenko, CEO of Mira Commerce. "We decided to focus our e-commerce practice on building BigCommerce-powered composable client applications going forward as it can be deployed in the most efficient and innovative methods for our clients, opening up new and exciting opportunities, such as AR/VR, voice commerce, and many other ways to shop."
E-Commerce share of the total retail pie has significantly grown in the past several years with no signs of slowing down, and brands across the globe are rethinking their approach to consumer experience and engagement. These efforts must be supported by seamless and highly efficient technology solutions, lightning-fast sites and applications. By partnering with BigCommerce as its go-to-market e-commerce platform and a strategic technology partner, Mira Commerce is strengthening its focus on the innovative MACH-driven commerce architecture (Microservices-based, API-driven, Cloud-native, Headless solutions) to build innovative and profitable online storefronts.
"Mira Commerce has been a leading BigCommerce partner for several years," said Brent Bellm, CEO of BigCommerce. "Mira's decision to focus on BigCommerce and composability validates our aligned vision for open, composable commerce and demonstrates their faith in our continued innovation. We look forward to many more years of success together."
Mira Commerce is a premier Digital Commerce Agency that powers online commerce by providing a mix of innovative technology and business services to merchants. We connect evolving sales channels and systems that enable truly personalized commerce. Mira Commerce builds dynamic, powerful, world-class e-commerce websites and custom applications for mid-market and enterprise retailers, brands, manufacturers and distributors around the globe. We excel at complex system integrations and building custom cloud full-stack serverless applications through MACH architecture. Our team is known for driving client success by delivering scalable commerce solutions to clients such as Mars M&Ms, Johnson & Johnson, Mizuno, FedEx, Visa International, Zwilling, Level Nine Sports, Swann Communications and others. Mira Commerce has been chosen as a 2022 Partner of the Year by BigCommerce. For more information, please visit miracommerce.com or connect with us on LinkedIn and YouTube.
BigCommerce (Nasdaq: BIGC) is a leading open software-as-a-service (SaaS) ecommerce platform that empowers merchants of all sizes to build, innovate and grow their businesses online. BigCommerce provides merchants sophisticated enterprise-grade functionality, customization and performance with simplicity and ease-of-use. Tens of thousands of B2C and B2B companies across 150 countries and numerous industries use BigCommerce to create beautiful, engaging online stores, including Ben & Jerry's, Molton Brown, S.C. Johnson, Skullcandy, Solo Stove, Ted Baker and Vodafone. Headquartered in Austin, BigCommerce has offices in London, Kyiv, San Francisco, and Sydney. For more information, please visit bigcommerce.com or follow us on Twitter, LinkedIn, Instagram, and Facebook.