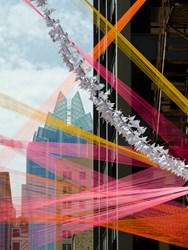 20ft WIDE sought to bring awareness and appreciation to this urban space, to foster discussion about the role of the alley in the city, while simultaneously generating new possibilities for its use.
Austin, TX (PRWEB) September 25, 2013
Dan Cheetham and Michelle Tarsney's project made a statement about urban potential, and attendees responded wholeheartedly. Cheetham, who operates under his firm's name, fyoog, led a team of fellow designers, artists, non-profits and city planners to point out the potential of Austin's overlooked alleys in their project, 20ft WIDE.
In April, the team installed the interactive exhibit in an alley off of Austin's Ninth Street between Congress and Brazos. The city's original plan in 1839 called for each alley to be 20 feet wide, hence the name of the exhibit. Many of Austin's alleys are avoided by pedestrians, but not because they're dangerous. It's because they're unnoticed by anyone who isn't delivering beer or food to the hundreds of restaurants and bars in the city's lively downtown.
"Austin's downtown alleys remain largely unnoticed. Yet, these public spaces are in danger of being removed by super-block developments, which will alter the character and scale of the city fabric," said Cheetham. "20ft WIDE sought to bring awareness and appreciation to this urban space, to foster discussion about the role of the alley in the city, while simultaneously generating new possibilities for its use."
20ft WIDE included a mix of installations and multi-generational attractions. Aside from a launch party to build buzz about the exhibit, activities like a family day, Pecha Kucha night, a pop-up breakfast for downtown commuters, a volunteer dinner, live music and yoga were scheduled to demonstrate the possibilities of utilizing such a space.
The chosen alley was revitalized on every level. Tautly stretched strands of twine in vibrant hues of orange, pink and yellow were interwoven to create the alley's upper level. Swooping up a fire escape, origami peace cranes hung that children had folded at an arts festival the previous weekend. On the ground level, the original alley aesthetic was embraced through the inclusion of stacked pallets, burlap sacks filled with donated clothing, polystyrene shipping foam and donated plant materials. The limestone walls typical of Central Texas construction were left exposed in areas to show off the beauty that the alley lends daily.
Many who participated in the events hosted at the 20ft WIDE installation expressed that they'd like to see this stay year round. One attendee said, "It's fun, a great idea and needs to be made permanent. I'm from Germany and there's much more going on there in the streets." Another says, "It's great to see underutilized spaces being used for community enjoyment and transformed into a beautiful place with art."
The philosophy behind fyoog is to show how incorporating beautiful architecture, design, art and functionality to any space allows it to become useful again. Previously, Cheetham's career was principally at large architecture firms, bringing him to work for world-class clients in New York City, London, Shanghai and San Francisco. The University of Texas graduate now lives in Austin with his wife, where he enjoys being able to lead projects and offer a holistic approach of incorporating his background in music and art with his expertise in architecture.
To learn more about 20ft WIDE or fyoog's upcoming projects, visit http://www.fyoog.com or email Dana Callender at dana(at)stellarimpeller(dot)com.
About Dan Cheetham (fyoog)
Dan is an architect with over 25 years of experience. Dan has worked globally on architecture and planning projects focused in the public realm. He was born to a family of classical musicians and was awarded a scholarship to music school. It was then that he discovered a passion for architecture and the connection between the built environment and the arts. For him, architecture is a way to engage people within the creative process.
For over two decades, Dan led world-class projects and teams in New York, London, San Francisco, and Shanghai, most recently as partner at Steinberg Architects and SMWM in San Francisco where he was a Design Director. Dan brings this experience to his own company, fyoog.
fyoog (http://www.fyoog.com) is an architecture, planning and design firm borne out of Dan's love for music, passion for fine arts, and his unique vision of their application to the built environment. He seeks to compose rich architectural compositions that incorporate other art forms and frequently collaborates with other artists, designers, and creative minds. Dan's work takes many forms including large urban planning projects, commercial and institutional repositioning, historic and adaptive reuse, educational environments, as well as small sculptures, outdoor spaces, and temporary installations.