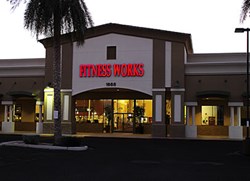 Get 21 Days of Gym Amenities Before You Choose Your Fitness Home
(PRWEB) November 25, 2013
With Obamacare and health care premiums becoming more of a major concern for both individuals and businesses, many employers are now offering incentives for their employees who make wellness their main focus.
As stated in a recent Forbes article; "Almost 60 percent of large employers are using incentives as a way to get them into a gym, wellness program or other health improvement program, according to a new study by Aon Hewitt, (AON) the large global human resource consultancy. That compares to just 37 percent in 2011. At least four in five U.S. employers – 84 percent – now provide incentives to fill out a health risk assessment, usually an online questionnaire about their health status, Aon Hewitt said. Another two-thirds of U.S. workers are offering biometric screenings such as tests for cholesterol and glucose levels."
They also go on to say, "Most employers' incentives are the equivalent of $50 to $150 that can include reduction of the premium cost that is deducted from a worker's paycheck. It's also becoming more common for employers to offer gift cards of $50 or $100 or additional paid days off, Aon Hewitt said."
Fitness Works understands just how important fitness is to individuals and companies alike. Likewise, they also understand what a true experience of choosing a gym should be like. Often times, providing a one-day, three-day or even five-day gym membership trial isn't enough for some busy individuals to see how they'd best fit the gym into their already packed schedule.
As such, Fitness Works is providing a 21-day membership trail in honor of the holidays. The owners have noticed that over of eight out of ten people sign up full-time after just ten days of a trial membership trial at Fitness Works. This allows people to get a true experience of how and when they will visit the gym, what equipment and amenities they'll be using, and to get a taste of the various classes they're interested in attending based on their own personal schedule and desires.
All four or their Fitness Works Gym locations will be providing the 21-day gym membership trail including Mesa, Chandler, Gilbert and Phoenix, Arizona. Trial members will receive full access to amenities with the trial they sign up for online. Prospects also will receive access to classes, personal training and a comprehensive health and fitness analysis. Furthermore, individuals will also get exclusive privileges to the gyms' sauna, steam room and the only gyms in Phoenix with a pool - heated that is.
Phil C., A Fitness Works Manager was recently quoted as saying that "whether an individual's focus is on getting a lower health insurance premium, losing weight during the holidays, or just seeking to improve their overall health, Fitness Works is offering this extended gym period as a way to help every guest see the potential in their overall solutions, goals and provide fitness results."
Fitness Works has been transforming the way their members think about fitness throughout the state of Arizona for over 20 years. Every one of their state-of-the-art gyms in the Phoenix area are focused on giving their clients premium options, flexibility and a premium support system possible in order to reach their individual goals.
For media inquires regarding Fitness Works please contact (Fitness Works Manager), (Kush Joshi) at (480) 396-0086. To learn more about Fitness Works and their 21-day gym membership please visit: http://www.fitnessworks.com/trial-membership.aspx.