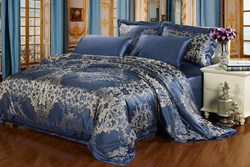 We never sacrifice efficiency or quality for low prices.
Houston, TX (PRWEB) October 24, 2013
Lilysilk.com has recently created and published its new collection of 22mm silk bedding sets. Today, the company launches a special offer on its duvet covers. Customers can get 50% off on the 22mm seamless silk duvet covers only if they buy the silk comforters.
The pure silk duvet covers come with surprisingly huge price cuts. Handcrafted from 100% mulberry silk, these duvet covers are luxurious and elegant, which are also comfortable to sleep on. The superior quality is that they are extremely soft and can be used for many years. According to Mike Lee, CEO of Lilysilk, comforters from their website are filled with natural silk floss,and they are beneficial for people who suffer from insomnia. This time, the company launches a big promotion on silk comforters and duvets to offer big savings for customers worldwide.
"We are excited to run a promotion on comforters and duvet covers at this season. We never sacrifice efficiency or quality for low prices. Our promotion is launched to express our gratitude to old customers and to welcome new customers. "says, Mike Lee.
Lilysilk has seen a big success in its 19 momme silk bed sheets which are made from premium quality silk fabrics. The company aims to make its customers indulge in smoothness and comfort without having to spend too much.
About Lilysilk
Lilysilk specializes in luxurious bedroom decor and offers high quality silk bed sheets, comforters and duvets, blankets and coverlets, mattress toppers and much more. Their beddings are in line with their mission which states, "to make customers satisfied" by providing delicately designed silk beddings. Their supreme quality in bed sheets and excellent customer support make them one of the most competitive market players.
More information about silk duvet cover can be accessed at: http://www.lilysilk.com/