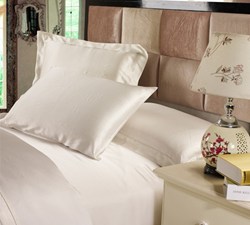 Tired in, Vigorous out.
(PRWEB) August 07, 2013
According to Mike Lee, the sales manager of Lilysilk.com, Momme weight is a way of measuring things developed by the Japanese. It is a standard way of measuring the weight of silk as well as a common way to measure pearls. For silk sheets, a momme weight of 12-19 is considered good quality with silk sheets in the range of 16-19 being very high quality.
Mike Lee said, "We are offering 19 momme and 25 momme seamless silk bedding online; the 22 momme new design is absolutely a brand new product for our customers. Apart from our 16 luxurious colors, we now provide more colors to meet almost all of your demands".
Lilysilk.com is devoted to making the finest silk bedding products with 100% mulberry silk. Its seamless technology assures the softest, top quality of silk bedding for a perfect sleep experience.
"We always do our best to bring each of our customers a healthy and quality sleep. Our slogan is "Tired in, Vigorous out". Our main goal is that you can sleep comfortably at night and become vigorous in each morning," added, Mike.
About Lilysilk.com
Lilysilk.com is a well-known brand in silk product manufacture, which focused on improving sleeping quality and making each bedroom perfect. They are constantly bringing the newest styles, colors, silk products to people everywhere, with the best customer service as well. Customers can find a huge selection of bedding items on the website, including silk doona, pillows, pillowcases, duvet covers and other bedding sets.
More information can be found at http://www.Lilysilk.com