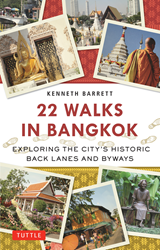 I thought I knew Bangkok but Kenneth Barrett proved me wrong. He's shown me a whole different side to the city that I never knew existed. —Stephen Leather, author
North Clarendon, VT (PRWEB) February 25, 2014
Visited by millions each year, Bangkok is one of the world's top tourist destinations. With beautiful palaces and mansions, shophouses and shrines, this fascinating city is full of surprises. Yet, first time visitors can find themselves overwhelmed by the immense sprawl. To a foreigner, one temple may look like another; one street may look like the one they just crossed.
With over 100 full-color photos and 70 black and white illustrations, including a detailed map of each walk, 22 Walks in Bangkok will draw the visitor in to the old neighborhoods of this city. Using a personal voice, the author shares Bangkok's landmarks, describing their distinctive features and explaining how each evolved – and taking the reader on a journey along narrow lanes and byways rarely seen by foreigners. 22 Walks in Bangkok is a must read before you go — and a must read to tell you the history of the places you've been.
This book is now available and can be purchased in bookstores and online at Tuttle Publishing and Amazon.
About the Author
Kenneth Barrett has been a journalist for his entire career – at various times specializing in travel, food, media criticism, humor, business and industry. He has edited numerous magazines and business newspapers and is also a photographer who has been on assignment to over 60 countries, predominantly in Asia, but also to parts of the Middle East and South America.
About Tuttle Publishing
Established in 1948 by Charles Egbert Tuttle Jr. in Rutland, Vermont and Tokyo, Japan, Tuttle Publishing is the premier publisher of English language books on Asian culture. Today, Tuttle maintains an active offering of books on a wide range of topics, including Asian culture, Asian literature, Asian architecture, Eastern spirituality, gardening, cooking, martial arts, crafts, travel, health and wellness, and fine art for a worldwide audience. For more information, visit http://tuttlepublishing.com.