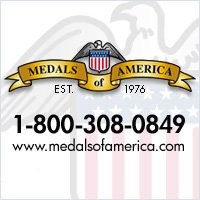 Boca Raton, FL (PRWEB) September 05, 2013
The Marine Corps Ball is an event that is as legendary as the branch of the United States Military that it represents. Each year the Nations Marines come together to celebrate their unbreakable brotherhood and their branch's history. Medals of America is an online business that sells Official United States Military medals, campaign ribbons, and any other product to complete a perfect uniform for the 238th Marine Corps Ball.
Medals of America announced today that their inventory of official Marine Medals and awards is fully stocked are ready to ship. They also restore or update medals that can be shipped directly to the business. There are hundreds of products, and thousands of customization options on gifts and apparel at Medals of America. Those looking for the last touch needed for their dress uniform, or family members, who want to find the perfect gift for the Marine in their life, can find exactly what they need at Medals of America.
About Medals of America
Medals of America is the premier source for Military Dog Tags, Medals, Badges, Military Ribbons, Patches, Rank, Rates and Insignia, as well as Custom Embroidered Clothing. We're also proud to offer our exclusive Rack Builder, Military Medals Builder and Custom Display Case Builder.
Veteran owned and operated for more than 36 years! Our mission is simple - we want every Veteran and Service person to display the Medals our grateful Nation awarded them. Anything we can do to have all the great Americans who served their country in the Military Forces display their award will enrich future generations by these symbols of Duty, Honor and Country.
Also, be sure to visit our Military Blog at http://blog.medalsofamerica.com/.
Medals of America
114 Southchase Boulevard
Fountain Inn, SC 29644
800-308-0849