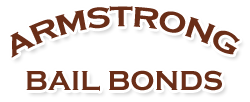 San Antonio, TX (PRWEB) March 03, 2014
Armstrong Bail Bonds, providing 24-hour bail bonds services, recently celebrated its 15th anniversary in business.
Armstrong Bail Bonds began as a small bail bonds company when Roscoe Armstrong Sr. had a vision to help people who were in their dearest time of need. After serving the HEB Corporation for over 40 years, Armstrong decided it was time to own his own business. Roscoe Sr. and his son, Roscoe Jr., then started on their journey. Now, 15 years later, they have two locations and continue to serve the San Antonio community.
Armstrong Bail Bonds provides a variety of services, including surety bonds, out-of-county bonds, felony bonds, non-arrest bonds, warrants, appeal bonds, traffic bonds, misdemeanors, and appearance bonds, and has vast experience in all of these areas. They realize that people may be unfamiliar with the bail process, and their experienced bondsmen will guide clients step by step through the process. If a client does not have the full amount of the bond, they offer affordable payment arrangements. They also accept American Express, Discover, MasterCard, and Visa cards as forms of payment. All bail bonds are kept private and confidential. They realize that having a loved one in jail is not easy, and their professional staff will work quickly to ensure a fast release.
Armstrong Bail Bonds has two locations to serve clients. One is at 930 S. Hackberry St. in San Antonio, and the other at 736 S. WW White Road in San Antonio. For more information, please call them at 210-533-9600, or 210-333-5200.
About the company:
Family owned and operated, Armstrong Bail Bonds offers over 15 years of providing San Antonio superior service. All bail bonds are private and confidential. Armstrong Bail Bonds offers two convenient locations, fast service, easy payment plans and the highest level of service. Count on Armstrong Bail Bonds to deliver the best and most secure bail bonds in San Antonio 24 hours a day.