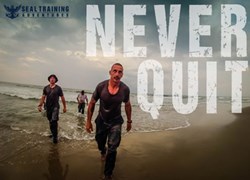 Highly recommendable as a positive life changing experience to be done at least once in a life time. I completed the 24hr. challenge in my late, late 40s, so no excuses! - Magarita Cole
Menlo Park and Half Moon Bay, CA (PRWEB) September 16, 2013
SEAL Training Adventures (STA) is proud to announce open registration for its 24-hour and new 12-hour West Coast SEAL Adventure Challenge. The event will take place at 7 a.m. on November 30, 2013 at Menlo Park and Half Moon Bay, near San Francisco and Palo Alto, CA. The event is $249.00 for the 24-hour period or $123.99 for the 12-hour period. Both periods are open to the public.
SEAL Training Adventures Instructor and U.S. Navy SEAL Brett Hess is calling for all adventure racers, Crossfit enthusiasts and Tough Mudder athletes to enroll in the first ever West Coast SEAL Adventure Challenge. The event, which has been held annually around the country for 14 years, is coming to California for the first time, where participants can test their strength, endurance and mental stamina in a series of grueling obstacles.
"The SEAL Adventure Challenge is as close as you will get in a single event to Basic Underwater Demolition/SEAL (BUD/s) training's infamous 'Hell Week,' without enlisting," said Navy SEAL, Brett Hess of SEAL Training Adventures. "Participants will be mentally and physically pushed, non-stop throughout the duration of the event. After completion of our program you will know how far your body and mind can be pushed and discover a new self confidence along with a higher self esteem."
Those enrolling in the event will face a variety of challenges, culminating in knowledge of how to lead and follow within a team or boat crew, how to harness and control stress and how to think clearly when sleep deprived. Values such as attention to detail, optimal function and performance, water confidence and basic survival techniques will all be stressed throughout the duration of the event.
"Our program emphasizes and promotes mental toughness, physical challenges, optimum function and performance through preparation and sports science nutrition. People will discover firsthand what it takes to become a member of the world's most elite Special Ops Units," said Hess. "All our instructors are former or current Special Ops and US Navy SEALs, so expect no sympathy since every man here has already endured this same level of mental and physical stress."
To learn more about SEAL Training Adventures, to view the full schedule of activities or to register for the West Coast SEAL Adventure Challenge, please visit http://www.sealtrainingadventures.com/.
About SEAL Training Adventures
SEAL Training Adventures focuses on creating and testing tactical athletes by instilling a combat mindset in individuals. The training program aims to build recruits physically, using tactically specific training evolutions and sports science nutrition. SEAL Training Adventures programs are not solely for those interested in a Special Ops career, instead focusing on those participants who want to improve and enhance their teamwork skills, while learning what it means for many individuals in a group or organization to operate as one.
SEAL Training Adventures also offers fitness programs through their sister company SEAL360 Fitness (S360). Brain child of Navy SEAL Brett Hess and former University of Florida Track and Field Athlete Doug Nelson combines Navy SEAL training evolutions with the purpose of building mental and physical toughness all season long. S360 will offer online training programs this fall for all athletes and weekend warriors.