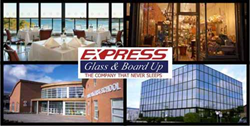 Broken glass emergencies don't stay between the business hours of nine to five.
Fort Lauderdale, FL (PRWEB) June 17, 2016
Express Glass and Board Up, a company considered one of Fort Lauderdale's experts in glass repair and replacement services, has announced a new informational update in anticipation of a busy 2016 summer season. The company's newly updated 24 hour glass repair page highlights after-hours support for residential and commercial services.
"Broken glass emergencies don't stay between the business hours of nine to five," explained Yaniet Santos, general manager of Express Glass. "We understand getting help is very important, no matter what time glass needs to be repaired. It's why we updated our 24 hour glass repair page in time for the busy summer season. To support customers with glass repair emergencies, easily and any time they need it."
To review the newly updated page for 24 hour glass repair in Fort Lauderdale go to: http://www.expressglassfl.com/home-window-repair/emergency-glass-repair-services/. Florida locals in Fort Lauderdale as well as nearby communities can find details about glass replacement emergencies and 24 hour business and residential support.
In Fort Lauderdale Business Hours Are All Hours for 24 Hour Glass Repair
Murphy's Law states that "Anything that can go wrong, will g wrong." The other piece to the statement is "and usually at the worst time." Murphy's Law happens daily in a populated city like Ft. Lauderdale. A broken tooth, a plugged sewer system or a shattered window can all surprise someone after normal business hours. Many frustrated residents may have to wait until 9am on Monday to call for help. The exception is broken glass. Fort Lauderdale 24 hour glass repair is open for business any time of day or night.
Express Glass, Fort Lauderdale's 24 hour glass repair specialists have recently updated the company web page. Information and support for commercial, residential or emergency 24 hour glass repair is easy to find. If a burglar has busted a home's sliding glass door, emergency glass repair can arrive within thirty minutes. If a celebration at a Fort Lauderdale restaurant becomes too rowdy, quick 24 hour glass repair service is ready. Murphy's Law can apply to many accidents in Fort Lauderdale, but glass repair is the exception to the rule.
The new page update details these service scenarios in time for an anticipated busy 2016 summer.
About Express Glass Repair and Board Up
Express Glass and Board Up is a family owned and operated glass repair business with more than 20 years of experience. Their professional technicians and the large variety of inventory make Express Glass the top glass repair service. If customers are looking for Fort Lauderdale 24 hour glass repair as well as glass repair in Delray Beach or West Palm Beach glass repair, please reach out to the company for a free estimate. If customers need a 24/7 Sliding Glass Door repair service in Ft. Lauderdale or Boca Raton or Miramar, technicians are standing by. The company specializes in sliding glass door repair and window glass repair; technicians will handle any glass replacement situation efficiently. Home or business glass repair is the company's main priority.
Express Glass Repair and Board up