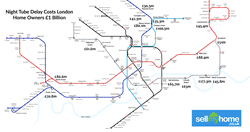 (PRWEB UK) 11 February 2016
In 2015, on the eve of the launch of the 24 hour London Tube service, online estate agents SellMyHome commissioned Dataloft to research the potential uplift in house prices of the new night tube. Six months on and with negotiations still ongoing SellMyHome asked: How much has the delay cost London homeowners?
The answer: nearly £1bn in lost capital appreciation.
How that number was calculated:

Average growth in the price of an apartment sold across London over the last 6 months has been 2.5%
The postcode districts surrounding the top scoring 15 stations identified in the initial night-tube research have seen apartment prices rise by an average of 6.7%.
If night tube attracted a premium of 5% on capital values – the average amount lost per apartment due to delay would be £20,147 across the top 15 locations
If night tube attracted a premium of 10% on capital values – the average amount of capital value lost per apartment would be £40,295 across the top 15 locations
There are some 51,244 apartments in the postcode sectors that are home to the fifteen stations (based on 2011 Census)
The combined value of those apartments could have risen by £937.8 million if the night tube service had added an additional 5% premium to prices.
If the night tube added a 10%, the loss in capital value as a result of the delay is £1.876bn
When Crossrail was announced properties positively affected by the new infrastructure saw a 20-25% increase in price over the baseline increase for an area impacted by the new rail service. Given that this is not a completely new infrastructure but a change in the breadth of existing infrastructure it would be reasonable to expect an additional 5-10% increase above the baseline for homes within a half mile radius of a station offering the new night tube service.
SellMyHome Director, Will Clark MRICS, "The continued wrangling between the unions and the London Underground are costing London homeowners dearly. Then again those on the property ladder in London have had it their own way for quite a while so those outside of London or part of generation rent will think that the affected London homeowners can wait a little longer."