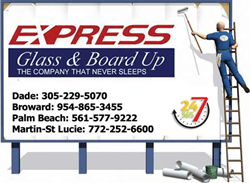 Among our strategies were productive, informative blogging as well as the use of Google AdWords. Both were successful!
Fort Lauderdale, FL (PRWEB) January 12, 2015
Express Glass and Board Up, one of Fort Lauderdale's top 24/7 glass repair services, is proud to announce major successes in its Fort Lauderdale publicity campaign. The company's campaign began in earnest in May, 2015, and targeted major components of its South Florida offerings in the glass repair and replacement sector.
"We wanted to build on our reputation as one of Fort Lauderdale's top-rated commercial glass repair companies," explained Yani Santos, general manager of Express Glass. "Among our strategies were productive, informative blogging as well as the use of Google AdWords. Both were successful!"
To see examples of the company's informative blog posts on Fort Lauderdale, please visit http://www.expressglassfl.com/blog/tag/ft-lauderdale/. To see examples of it's Internet advertising, one should simply input search terms into Google such as 'glass repair Fort Lauderale,' or '24/7 glass repair service.' With consumers turning more and more to the Internet, the company's publicity goal has been to stay 'top of mind' among Fort Lauderdale businesses and residential customers.
The Transition to Internet Publicity
2014 was a turning point in the Internet in South Florida for the glass business. Previously companies could ignore Internet search engines such as Google or Bing, as well as consumer review sites like Google+, Yelp or the Yellow Pages. Express Glass witnessed a steady growth in Internet-based inquiries, and as part of its commitment to remaining the most technologically advanced glass company in Florida, it ramped up its Internet publicity efforts. One aspect was effective, informative blogging, as witnessed by the more than three pages of blog posts just on Fort Lauderdale and visible on the website at the link above. A second aspect was coordinated, informative Internet advertising to reach consumers at the moment of decision. And a third aspect was working with customers to convert physical word-of-mouth to Internet word-of-mouth, based on customers surveys. For 2015, the company plans to extend its leadership as Florida's most technologically advanced glass repair business.
About Express Glass and Board Up
Express Glass and Board Up Service Inc. is a family owned and operated glass repair business with more than 20 years of experience. Their professional technicians and the large variety of inventory make Express Glass the top glass repair service. If customers are looking for Miami glass repair or Ft. Lauderdale glass repair as well as glass repair in Delray Beach or West Palm Beach glass repair, please reach out to the company for a free estimate. If customers need a 24/7 Sliding Glass Door repair service in Ft. Lauderdale or Boca Raton or Miramar, technicians are standing by. The company specializes in sliding glass door repair and window glass repair; technicians will handle any glass replacement situation efficiently. Home or business glass repair is the company's main priority.
Express Glass Repair and Board up
http://www.expressglassfl.com/