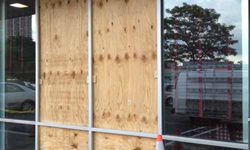 Boca Raton business owners may have our number to call for broken storefront glass, but not for a glass emergency at their home
Boca Raton, Fl (PRWEB) September 18, 2015
Express Glass & Board Up, a top-rated glass repair service serving Boca Raton, Florida, is proud to announce the relaunch of its web pages for Florida's businesses and homeowners in Boca Raton just in time for the busy Fall season. When there is a 24 hour glass replacement emergency at home or work, it is vital to know that a local glass service offers a 30 minute response for both.
"Boca Raton business owners may have our number to call for broken storefront glass, but not for a glass emergency at their home," commented Yaniet Santos, general manager of Express Glass, "Over the summer our customer surveys indicated that Boca Raton residents, in particular, were not aware of our 24/7 emergency service. Therefore, we are re-launching our pages to remind customers that we offer the same 24/7 repair service to both their homes and storefronts. They get the same 30 minute response time and quality glass replacement no matter where they are calling from."
Boca Raton's residents can view the home service site page at: http://www.expressglassfl.com/home-window-repair/emergency-glass-repair-services/. Boca Raton's storefront owners can view the business page at; http://www.expressglassfl.com/commercial-glass-repair/emergency-glass-repair-services/. Each web page describes specific shattered glass issues for commercial businesses as well as residential glass customers in Boca Raton.
Boca Raton Residents Can get Emergency 24/7 Glass Repair within 30 Minutes at Home or a Business.
Boca Raton's business owners have a long address book of emergency service numbers for their restaurants and storefronts. A shattered window, while uncommon, represents a true emergency for businesses such as restaurants that must be safe and open to customers to make money. Many glass doors and windows often require repair professionals who have an in-depth understanding of glass windows and doors plus the required parts. To have this knowledge and to be available on a 24/7 emergency basis sets Express Glass apart from the competition. The new pages inform businesses of this fact.
The situation for Boca Raton residential customers is similar: they may not understand that emergency home glass service is available. Therefore, a page unique to their needs was also created.
About Express Glass and Board Up
Express Glass and Board Up Service Inc. is a family owned and operated glass repair business with more than 20 years of experience. Their professional technicians and the large variety of inventory make Express Glass the top glass repair service. If customers are looking for Boca Raton glass repair, Miami, Ft. Lauderdale glass repair as well as glass repair in Delray Beach or West Palm Beach glass repair, please reach out to the company for a free estimate. If customers need a 24/7 Sliding Glass Door repair service in Ft. Lauderdale, Boca Raton or Miramar, technicians are standing by. The company specializes in sliding glass door repair and window glass repair; technicians will handle any glass replacement situation efficiently. Home or business glass repair is the company's main priority.
Express Glass Repair and Board up
http://www.expressglassfl.com/