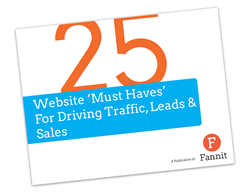 The guide is designed to help business owners with their online business growth and planning.
Seattle, Washington (PRWEB) February 28, 2014
Fannit recently released a business marketing guide that answers the question of what it really takes to have a great website that drives visitors, leads, and revenue.
It is designed to help business owners get insight into their own online marketing, providing 25 unique areas that are necessary.
The guide, which is free to download here, helps businesses learn how to get found online with search engine optimization (SEO), including building inbound links, meta tags, and more. It also covers important design and usability factors that are necessary for successful marketing.
"We wanted to provide the guide as a way to help business owners with their business growth and planning," said Neil Eneix, COO of Fannit.com. "It's our way of helping provide resources to the business community."
The guide also includes tips for creating content that attracts and keeps visitors onsite and also lays out the best practices for converting traffic into leads, including Calls-to-Action, Landing Pages, and Forms.
About Fannit
Fannit.com is a full service internet marketing agency that helps companies increase their online presence through engaging and well placed content. They service Seattle area and U.S. based companies for content development, SEO, PPC, E-mail, Press Release, and Website Funnel Optimization.