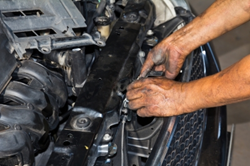 The OHV 425 series 2.5-liter builds that we are featuring in stock are exclusive to our website thanks to our junk yard suppliers
Cleveland, OH (PRWEB) August 30, 2015
One of the first diesel powered sport utility vehicles in North America was produced in 1995 by the Chrysler company for its Jeep subsidiary. The Preowned Engines company has acquired an inventory of Jeep 2.5L engines for Grand Cherokee vehicles to offer these products to the public. Details about this new offering can be reviewed at http://preownedengines.com/jeep-grand-cherokee-2-5-engine.
The editions that are in stock are turbo diesel units that feature 153 cubic inch displacement. The units were produced as a co-venture between Chrysler and VM Motori between 1995 and 1999. The 4-cylinder diesel units that are in stock can be installed into the two-door and four-door editions of the Grand Cherokee SUVs.
"The OHV 425 series 2.5-liter builds that we are featuring in stock are exclusive to our website thanks to our junk yard suppliers," said one rep at the PreownedEngines.com company.
A common complaint that some consumers have when shopping for a replacement motor on the Internet is difficulty with transmission compatibility. The POE company is assuring customers who purchase the used 2.5-liter diesel blocks for Jeep SUVs that full compatibility with 4-speed and 5-speed transmissions is provided.
"The turbocharged blocks require a specialized transmission, and not every Jeep model is compatible with the diesel powered motor blocks," said the rep.
The Preowned Engines company is now making plans to enhance the inventory of Jeep replacement motors consumers can explore using its website in 2015. Support for the 2.8-liter and 4.0-liter motors will be added before the close of the year.
About PreownedEngines.com
The PreownedEngines.com company is now promoting a larger inventory of OEM vehicle components that have been acquired through salvage providers in North America. The company has a dedicated service staff providing price data and other information to the public. The PreownedEngines.com website is now updated with a virtual inventory procedure that provides higher level of accuracy.