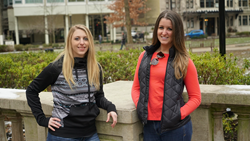 "We're so excited to be able to say that we will literally meet our clients where they are. Since we're not limited by a physical office space, we have more flexibility to travel and break ground in places we've never been before,"
Philadelphia, PA (PRWEB) March 01, 2017
Temple University graduate Sivon Pichoto and Drexel University graduate Ilana McLean are excited to announce the launch of their virtual design and marketing agency, 25M Design. Headquartered in the Philadelphia area, 25M Design provides graphic design, brand development, and social media marketing services for companies based in the United States. Unlike most design agencies, 25M Design operates remotely, traveling to meet with their clients wherever they are located. They have already gained significant ground by partnering with clients in Pennsylvania, New Jersey, Virginia, California, and Tennessee.
"We want to break away from the traditional agency model and have a warmer approach with our clients," says co-founder Sivon Pichoto. "Traveling to meet with clients allows us to gain a deeper insight into what makes each company tick and makes it easier to build a stronger strategy for the growth of their brand."
25M Design was founded on the belief that creative minds don't belong behind walls. That is why Pichoto and Miles plan to expand their team digitally by creating a network of freelance designers and marketers who have the flexibility to work from anywhere that makes them the happiest. After working in traditional office spaces post-graduation, Ilana and Sivon recognized that there was a need for the flexibility and freedom that remote working allows. By working with companies who do good for others and who have passion behind their work, 25M Design will create a network of positive client partnerships for the future.
"We're so excited to be able to say that we will literally meet our clients where they are. Since we're not limited by a physical office space, we have more flexibility to travel and break ground in places we've never been before," explains co-founder Ilana McLean. "While we love designing anything and everything, we also get most excited when clients really allow us to enter their world and get a first look into their businesses and what they do."
25M Design seeks to build strong relationships with their clients by giving each one the time and attention they deserve in order to fully develop their brand image and strategy. With Ilana's immense amount of graphic design experience, and Sivon's experience in marketing and social media, the two make a dynamic team to handle any and every client's needs. To learn more about their work or to inquire about a project, please go to http://www.25mdesign.com or email info(at)25mdesign(dot)com.