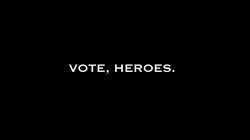 "[Latinos have] given so much to this country and will continue to, and we deserve a bigger voice than we've historically been given in the political sphere," said Latino Writer-Director Alfredo Barrios Jr.
LOS ANGELES (PRWEB) November 07, 2022
The outcome of our midterm elections will impact every aspect of our lives, from our economy and climate, to our democracy. And given how crucial the Latino vote will be in deciding how the election turns out, two successful Hollywood Latino writer-directors have sought to activate that bloc. Alfredo Barrios Jr. and Steve Acevedo have combined their talents to produce "Vote, Heroes / Los Héroes Votamos," a public service announcement aimed to inspire Latino voter turnout.
The "Vote, Heroes/ Los Héroes Votamos" video begins with the story of Master Sergeant Raul Perez "Roy" Benavidez, a Mexican-American Green Beret from South Texas who saved eight of his fellow Americans in Vietnam after being shot or stabbed 37 times and left for dead. He is a true American hero. The video then features how everyday Latinos are also heroes in their everyday lives in big and small ways -- in hospitals, classrooms, factories, fields, the home and elsewhere – and they are fathers and mothers, sisters and brothers, sons and daughters. The Latino family.
"These days, we're facing an existential crisis in terms of keeping our democracy alive, our worsening climate crisis, and our ailing economy, just to name a few areas of importance," said Barrios. "And one of the most vital tools that we can all wield to address these issues is our vote -- by voting for competent political leaders who can solve these problems that affect us all."
Honoring everyday Latinos whom they believe are really heroes, Barrios and Acevedo's video encourages them to continue their heroic role by voting. They are asking their Hollywood connections who are equally inspired to get out this message, which "felt like the most effective way to get the video out into the world," said Barrios. Actors Vanessa Martinez and Manuel Uriza lent their voices to the English and Spanish videos, and 17-year-old music composer, Alfredo B. Barrios' (also known as Prix Meditated) music is featured.
There are 62.1 million Latino individuals in the United States. According to the Pew Research Center, "an estimated 34.5 million Hispanic Americans are eligible to vote this year, making Latinos the fastest-growing racial and ethnic group in the U.S. electorate since the last midterm elections."
"We've given so much to this country and will continue to, and we deserve a bigger voice than we've historically been given in the political sphere," said Barrios. "We're open to leaders of both parties who can step up and represent our Latino interests, values, and beliefs. "
To find out where to vote on Nov. 8, visit vote.org. To vote-by-mail, ballots returned at a secure ballot drop box must be deposited by 8 p.m. (PST) on Nov. 8 or check with your state guidelines.
# # #