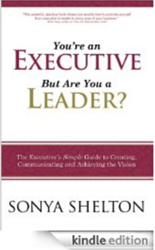 Just in time for summer leisure reading, the second edition of "You're an Executive, But Are You a Leader?" by executive coach and author Sonya Shelton is available on Kindle.
Los Angeles, CA (PRWEB) May 21, 2014
The new second edition of "You're an Executive, But Are You a Leader?" is now available exclusively on Kindle.
The book was a #1 Amazon Best Seller the week of launch in three categories: Business Management & Leadership, Business Management, and Business Leadership.
Sonya Shelton, a leading executive coach and author who works with business managers and executives to increase leadership effectiveness and boost professional results advises that today's executives are often talented, but not effective leaders.
In "You're an Executive, But Are You a Leader?" Shelton makes the case that there's a very clear difference between business executives and business leaders—a difference that can significantly impact an organization's ability to execute and achieve its vision.
"Many business executives look to an economic turnaround to boost their businesses, but the real solution for improving results in today's organizations is leadership. The success or failure of any endeavor comes down to leadership," said Shelton, an international speaker and consultant and CEO of Executive Leadership Consulting. "Now, more than ever, we need leaders in our organizations and in our world. Great leaders create and communicate a vision and have the power to move people into action to achieve it. Leaders ignite our passion and inspire us to do our best."
According to Shelton, in today's business environment, it's no longer enough for executives to lead simply by the power of their position. Her book "You're an Executive, But Are You a Leader?" reveals 50 simple, no-nonsense strategies vital to creating, communicating, and ultimately achieving the vision.
The expanded and updated second edition is available for download from Amazon.com here.
For more tips and information about Executive Leadership Consulting, please visit http://www.executiveleader.com and follow Sonya Shelton on Twitter for leadership tips @SonyaShelton.
About Executive Leadership Consulting:
Sonya Shelton, CEO and founder of Executive Leadership Consulting, is the author of the book "You're an Executive, But Are You a Leader?" As an international speaker and consultant, she shows managers and executives how to increase their leadership effectiveness so they can boost their professional and business results.
Executive Leadership Consulting offers workshops and coaching programs designed to develop leadership capability at all levels of the organization. Shelton designed the programs at Executive Leadership Consulting based on her more than 25 years' experience as a leader in a variety of companies and industries, including the high-paced fields of publishing, advertising, and entertainment. She has worked as an executive coach and consultant with companies around the world from start-ups to Fortune 100 corporations, including Disney, Nestlé, and Microsoft.