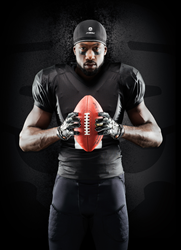 Beyond offering great protection, the 2ND SKULL® Cap looks like regular skull caps that professional NFL players wear every Sunday
PITTSBURGH, PA (PRWEB) August 20, 2015
2ND SKULL, LLC is proud to announce that the 2ND SKULL® Cap with Impact Absorption Technology is now available for football players at selected Dick's Sporting Goods across the country and at http://www.DicksSportingGoods.com
The 2ND SKULL® Cap fits under football helmets and is available in three sizes so that youth, teen and adult athletes can have additional protection. The retail price of the 2ND SKULL® Cap is $59.99.
The 2ND SKULL® Cap has been tested for linear impact at independent third party labs adhering to new football helmet testing standards by NOCSAE. The 2ND SKULL® Cap adds up to 26% more impact protection in football. 2nd Skull® products have a thin, soft, flexible and breathable layer of XRD® that delivers impact protection. The special urethane molecules are soft at rest but harden upon impact, absorbing 90% of the energy.
"We are pleased to be working with Dick's Sporting Goods in providing a new offering that resonates with parents and athletes. Beyond offering great protection, the 2ND SKULL® Cap looks like regular skull caps that professional NFL players wear every Sunday." said Federico Olivares, CEO of 2nd Skull, LLC".
Youth football participation continues to decline. "According to an Associated Press-GfK poll, nearly half of parents said they're not comfortable letting their child play football."
"We are transparent about our claims and know that no helmet or headgear can eliminate or reduce head injuries including concussions. Based on research from the Cleveland Clinic, we know that even non-concussive head injuries can also lead to long term health issues. This is where 2ND SKULL® wants to play. We need to do everything that we can as parents and coaches to protect athletes".
The 2ND SKULL® Cap fits under any sports helmet and delivers unmatched value for athletes as it can be worn throughout the year in multiple sports. For non-helmet sports like soccer or basketball, the company created the 2ND SKULL® Band which is also available in selected Dick's Sporting Goods stores and at http://www.DicksSportingGoods.com The retail price of the 2ND SKULL® Band is $49.99.
2ND SKULL® products are patented and proudly Made in the USA. More information at 2ndSkull.com
ABOUT 2ND SKULL, LLC
2nd Skull, LLC is a protective headgear company with patented products for any sport proven to add up to 35% more impact protection. 2nd Skull® products have a thin, soft, flexible and breathable layer of XRD® that delivers impact protection. The special urethane molecules are soft at rest but harden upon impact, absorbing 90% of the energy. 2nd Skull® has a protective headgear product for any activity. The 2nd Skull® CAP is intended for any sport or activity where a helmet is required, such as football, hockey, or baseball. The 2nd Skull® BAND is for any sport or activity where no helmet is required and in sports such as soccer or basketball. 2nd Skull products are proudly Made in the USA. For more information, please visit 2ndSkull.com