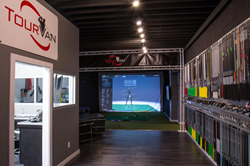 2nd Swing is honored to be recognized as one of the best fitters in America...
(PRWEB) April 24, 2015
In a letter to recipients of this honor, Golf Digest Editor-In-Chief Jerry Tarde said: "The America's 100 Best Clubfitters list represents [Golf Digest's] picks for the best places in America to get fit for equipment…they have the technology and expertise to make club buying a thoughtful process."
In the last year, 2nd Swing has heavily invested in upgrading fitting technology to provide consumers with a top-of-the-line fitting environment. This included building two premium Tour Van fitting studios that utilize nFlight as well as GEARS, an 8-camera 3D motion-capture club fitting system, in both 2nd Swing stores. These hi-tech systems allow 2nd Swing's expert fitters to record ball, club, and swing data--all accurate to 0.2mm. This unprecedented accuracy allows 2nd Swing fitters to measure and adjust variables other fittings systems can't see. This gives customers an experience that is on par with what a professional golfer might expect on Tour.
"2nd Swing is honored to be recognized as one of the best fitters in America," said 2nd Swing President Russ Higgins, "We take great pride in working with our customers to help them improve their game and find the right equipment."
This marks the 2nd consecutive time both 2nd Swing stores have been recognized as top fitting locations. Comparing the retailer's resume to the selection criteria makes it easy to understand why. For a facility to be considered for the 100 Best it must be public, provide a wide range of club options, receive high recommendations from reviewers and industry sources, and they must be able to demonstrate their fitting expertise.
2nd Swing carries a wide range of equipment from the industry's top manufactures, and has been independently recognized by manufactures like PING, TaylorMade, Mizuno, Cobra, and Bettinardi for the company's commitment to custom-fitting. In addition to new club options, 2nd Swing also provides customers with a selection of over 20,000 used golf clubs. Customers receive a free fitting with the purchase of any new or used club, including customers from all over the country that purchase equipment online.
When 2nd Swing's range of new and used club options is combined with the best fitting technology available, and the expertise of certified fitting specialists, the result is a fitting experience that is unmatched by others and truly one of the best in the country.