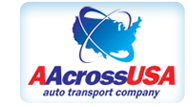 A Across USA is now offering affordable, reliable, and dependable car shipping and auto transport services nationwide – from one-time shipments to ongoing fleets, the trusted name in the Auto Transport industry can handle it all.
San Francisco, CA (PRWEB) March 07, 2014
A Across USA is the foremost auto transport service nationwide. A Across USA is proud to announce that they are now offering service in all 50 states. A Across USA prides themselves on hard work, passion, honesty, and commitment to each and every consumer. Car shipping can be incredibly daunting and stressful. There's so much to consider including cost and reliability. A Across USA gives consumers peace of mind and is dedicated to providing careful and dependable services with an outstanding door-to-door delivery record. A Across USA offers competitive pricing and guarantees that each car will be shipped safely and efficiently. The goal has always been complete customer satisfaction, which has made them leaders in the industry.
A Across USA has been meeting vehicle-transporting requirements for families, companies, the US military, motor vehicle dealers, moving companies, leasing companies as well as the government agencies for years. Since A Across USA is one of the most well known vehicle transporting companies in the US, they are determined to provide a vehicle transporting service that is truthful and cost-effective. A Across USA has more than 1,000 pre-checked and pre-screened vehicle carriers in every station, ensuring that trouble-free vehicle transporting can be easily and effortlessly arranged. Whether individuals are searching for vehicle transportation service for a one-time delivery, or require a vehicle delivery on an ongoing basis, which includes regularly moving of fleets of cars either on an interstate or state-to-state basis, A Across USA can handle it all. As the trusted name in auto transport, the expert team will go the extra mile to make certain that each consumer enjoys affordable and professional vehicle transportation.
A Across USA is insured, licensed, and bonded to guarantee that all vehicles will arrive safely and with integrity. A Across USA is one of the few auto transport companies that is willing to grant a full refund on a deposit paid in the event that they are unable to transport the motor vehicle. When working with A Across USA customers who are searching for car shipping in California or South Florida or even Pennsylvania, can have confidence and assurance that they are making the best decision. To learn more, receive a quote, or speak directly to a helpful and professional transport specialist, log on to: http://www.aacrossusa.com.