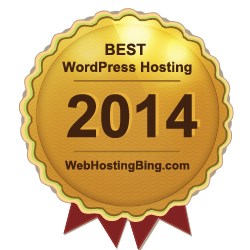 San Francisco, CA (PRWEB) December 31, 2013
For people planning to start a self-hosted WordPress site in the coming 2014, WebHostingBing.com, a leading web hosting review site, has introduced the 3 best WordPress hosting companies that are excellent in compatibility, software installation, affordability, performance, feature and technical support.
The 3 companies on the list are JustHost, Arvixe and WebHostingHub, all of which are experienced with over 10 years' history and have been supporting the WordPress community since the very beginning of the development of the software. The selection of web hosts is based on more than 2 years' review on 100+ providers and over 4,000 verified customer reviews.
1) JustHost
As a large hosting brand, JustHost offers WordPress users with a wide range of choices including shared, VPS and dedicated server hosting. Suitable for personal blogs and small business sites, the all-in-one shared plan Just Plan is now available at a price starting from $2.25/mo for visitors signing up through this promotional link, 68% off the regular $6.99/mo.
Since JustHost has an anytime money-back guarantee, customers are entitled to get a full refund for account cancellation in the first 30 days and a pro-rated refund after that period. Besides, they are able to enjoy a large number of features and extras provided by the company, such as unlimited disk space and bandwidth, free domain name registration, SimpleScripts 1-click WordPress installer, $100 Google AdWords credits, $50 Facebook ads credits and $25 Bing search credits.
2) Arvixe
Arvixe guarantees 100% WordPress compatibility by providing the latest versions of PHP, MySQL, Apache and suPHP even for the users of the basic shared Personal Class package. The package is priced from $4/mo regularly, but it is purchasable at $2.8/mo for subscribers using the coupon code BWH360 to claim a 30% discount. The extras included are 1 free domain for life, $175 advertising credits and 60 days money-back guarantee.
The company hosts customers' websites in multiple SAS 70 Type II Certified data centers with complete power redundancy, N+1 generator architecture and multi-tiered network, which ensures that both the uptime and speed are well backed. In addition, Arvixe offers CloudFlare CDN to speed up the hosted websites.
3) WebHostingHub
WebHostingHub is one of the few web hosts that serve all kinds of online needs with a single shared package. At present, the company has a promotion which comes with up to 72% discount with which the price of the package is $1.95/mo for the first 3 months of a 2-year or 3-year term and then $3.99/mo for the remainder. 90 days full refund guarantee is also included.
WebHostingHub provides all customers with 24x7 US based technical support powered by a team of professionals with specific knowledge on WordPress, and allows them to ask for assistance via email, live chat and phone. The holding time averages less than 90 seconds.
For more details about the 3 web hosts and their service, read this award page.
About WebHostingBing.com
WebHostingBing.com is a leading site dedicated to web hosting review and rating, founded with the purpose to help webmasters find affordable and reliable hosting packages to serve their websites.