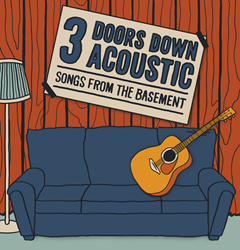 (PRWEB) April 18, 2014
After kicking off their Acoustic: Songs From the Basement Tour last November, 3 Doors Down has recently announced an additional 46 tour dates for this summer. The North American summer leg of the tour will kick off on May 30th in Friant, California, and will extend to mid-September, spanning across the United States and Canada.
Led by frontman Brad Arnold, 3 Doors Down first found their claim to fame with the single "Kryptonite" off the 2000 album The Better Life, which has since been certified platinum six times. Since then, the rock quintet has gone on to produce four more albums with a fifth, Songs From the Basement, expected to drop sometime this year.
Not only is the Acoustic: Songs From the Basement Tour promoting the band's anticipated album, it is also showing a different side to the band and their music. The band intends to bring audience members on stage to enjoy the music from couches, which is all a part of the intimate, "basement-like" setting that 3 Doors Down intends to portray throughout their tour.
In an interview with Guitar World, guitarist Chris Henderson touches on how stripping down their setlist to acoustic versions will affect the music: "It's a beautiful thing when a song translates to acoustic guitar... I think a lot of our songs do translate well, because we wrote something like 90% of our songs, even the rock songs - even "Believer" and all that stuff - they were written on acoustic first.
With over 16 million albums sold worldwide, 3 Doors Down has never been one to let down their fans. This tour is expected to draw in fans from all over the continent and build a closer connection with the crowd. 3 Doors Down Acoustic: Songs From the Basement Tour tickets go on sale to the general public at 10am CDT on Friday, April 18th. Fans looking to secure their seats to this event now can find available tickets at SuperStarTickets.
3 Doors Down Acoustic: Songs From the Basement North American Tour Dates:
May 30 - Friant, CA (Table Mountain Casino)
May 31 - Temecula, CA (Lake Skinner Regional Park)
June 3 - Coquitlam, BC (Red Robinson Show Theatre)
June 4 - Prince George, BC (CN Centre)
June 6 - Calgary, AB (Cowboy's Calgary)
June 7 - Bonnyville, AB (Bonnyville Centennial Centre)
June 9 - Regina, SK (Casino Regina)
June 10 - Winnipeg, MB (Club Regent Casino)
June 11 - Saint Paul, MN (Weesner Family Amphitheatre)
June 14 - Las Vegas, NV ("Rock of Vegas" - Fremont Street)
July 4 - Oahu, HI (Joint Base Pearl Harbor - Hickman)
July 12 - Springfield, MO (Gillioz Theatre)
July 13 - Cedar Rapids, IA (The Paramount Theatre)
July 15 - Chicago, IL (House of Blues)
July 18 - Oshkosh, WI (Rock USA Festival)
July 19 - Goshen, IN (Elkhart County Fair)
July 20 - Norfolk, NE (Devent Center)
July 23 - Lewiston, NY (Artpark)
July 24 - Jim Thorpe, PA (Penn's Peak)
July 26 - Readington, NJ (Quick Chek Festival of Ballooning)
July 27 - Hyannis, MA (Cape Cod Melody Tent)
July 29 - Westbury, NY (The Space at Westbury)
July 30 - Cohasset, MA (South Shore Music Circus)
August 1 - Newport, RI (Newport Yachting Center)
August 2 - Hampton, NH (Hampton Beach Casino Ballroom)
August 3 - Portland, ME (Maine State Pier)
August 5 - Hershey, PA (Hershey Theatre)
August 7 - Cincinnati, OH (Taft Theater)
August 8 - Washington, MO (Washington Town and Country Fair)
August 17 - Durham, NC (Durham Performing Arts Center)
August 19 - Charlotte, NC (The Fillmore Charlotte)
August 20 - Norfolk, VA (The Norva)
August 23 - Durant, OK (Choctaw Casino and Resort)
August 24 - Midland, TX (Wagner Noel Performing Arts Center)
August 26 - Corpus Christi, TX (Selena Auditorium)
August 27 - Pharr, TX (Pharr Entertainment Center)
August 29 - Charenton, LA (Cypress Bayou Pavilion)
August 30 - Beaumont, TX (Jefferson Theatre)
August 31 - Abilene, TX (Paramount Theatre)
September 3 - Lake Buena Vista, FL (House of Blues Orlando)
September 5 - Tampa, FL (Hard Rock Hotel and Casino)
September 6 - Ft. Myers, FL (Barbara Mann Performing Arts Hall)
September 7 - Jacksonville, FL (Florida Theatre)
September 10 - Atlanta, GA (The Tabernacle)
September 11 - Louisville, KY (Palace Theatre)
September 13 - Hutchinson, KS (Kansas State Fair)
For more information regarding the 3 Doors Down Acoustic: Songs From the Basement Tour or to buy concert tickets, go to SuperStarTickets.com now. SuperStarTickets is the nation's premiere ticketing source for concerts, theatre and sporting events. We believe that every event hold significant value to our customers, more than just the cost of entrance, but a lifelong experience. That's why it's our mission to make every ticket, every order, and every customer's buying experience our business. We know these events aren't just about cheering for a favorite artist or athlete; it's about creating moments with our friends, family, and favorite stars.